The Luther community will get the chance to experience a world of extraterrestrial mystery with the Underground Radio Theatre of the Air's presentation of "Killers from Outer Space" on October 6 and 7 in Jewel Theatre.
The live radio performance returns for the third year in a row, with this year's theme diving into the captivating concept of time travel. In this year's production, which is directed by Professor of Theatre Jeff Dintaman, the audience is transported both back in time and into a captivating sci-fi realm where Earth becomes a fictitious world inhabited by invading aliens.
Louis Breimhurst ('27) plays the part of Dr. Douglas Martin, and expects "Killers from Outer Space" to be an engaging experience for audience members.
"The audience can either close their eyes and be fully immersed, or they can watch and see the interesting things we've done to create the atmosphere," Breimhurst said.
As the director, Dintaman expressed both challenges and joys in organizing radio shows. Creating these plays entails a combination of script selection, voice talent coordination and sound effects engineering, all of which add to the quality of the radio show.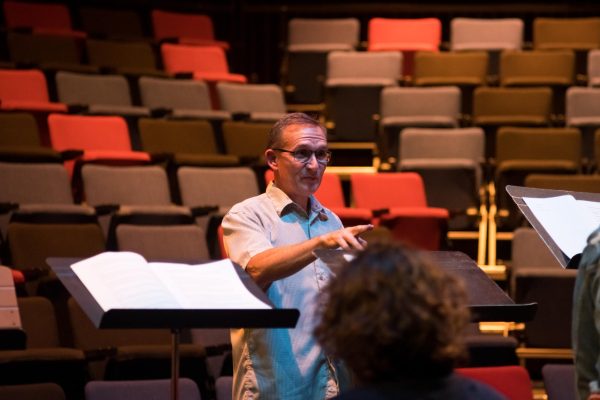 "Creating a world, just through sound, is exciting," Dintaman said. "Our goal is to use as many human-made sound effects as possible to tell our story. While the show is primarily about the auditory experience, we also enjoy providing our audience with visual surprises of how we create the various live sound effects."
For Carina Crouse ('26), a sophomore playing ensemble roles and involved in live sound production,the live sound effects aspect is a highlight. She explains that her role involves manipulating various sounds to produce different sound effects.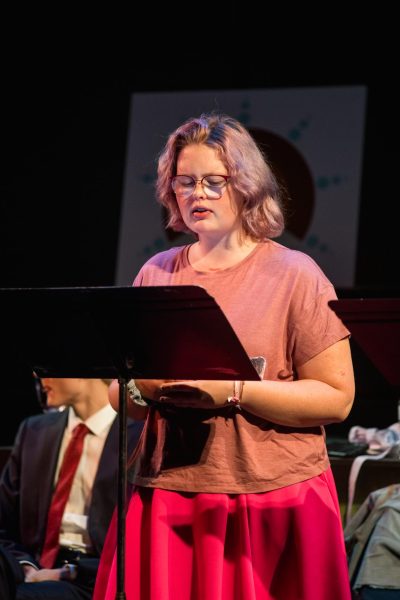 "I get to play with different sounds everything makes to produce the effects that help the listeners really visualize what is happening," Crouse said.
Dintaman believes that "Killers from Outer Space" is more than just a story about extraterrestrial invasions, but also about the consequences of human acts.
"This summer's Senate hearings on UFOs and the release of the movie Oppenheimer inspired this story," Dintaman said. In addition, the broad use of AI to generate words and images, influenced the story. We used AI to help generate ideas for the storyline."
While it might be shocking to hear that a play from a liberal arts college like Luther would be made by ChatGPT, the play ends up dealing with some of the very problems that A.I. creates.
"What I find really intriguing about this play is that some of the lines were created by ChatGPT, and that kind of just goes to show how much things are advancing around us," Crouse said. "It's honestly a little scary about how fast they are becoming close to indistinguishable from what was created by humans."
Dintaman further explained that the plot has much larger significance to the modern world, beyond just being a story about space aliens and UFOs.
"The story explores how aliens exploit what humans are doing to the earth to conquer humanity," Dintaman said. "Though it's a sci-fi story about a fictional takeover, at its core [it is] about how our actions have consequences."
The performances will be held on October 6 and 7, from 7:30 p.m. to 8:30 p.m. at the Jewel Theatre in the Center for the Arts. The tickets are available at the Luther Box Office and tickets.luther.edu, and are free with a Luther ID.