The Recreation Services program at Luther is in the midst of a major resurgence. Despite fizzling out during the COVID-19 pandemic, Rec Services is once again making their presence known and are hoping their fall activities get students interested.
Assistant Director of Student Activities & Rec Services Coordinator Olivia Helland ('21) is new to her role this year after a previous stint as a Sustainability Fellow with the Center for Sustainable Communities (CSC). She looks at this job as a way to get students out and active in nature as part of their college experience.
"My goal is to make [Rec Services] a presence on campus," Helland said. "I'm trying to get [Rec Services] back out there, get people moving and active [and] in tune with their bodies and their mental health.
Already this fall, students have kayaked and canoed on the Upper Iowa River, and explored the natural surroundings that Decorah has to offer. Helland, as part of her goal to provide a variety of activities, said one of her goals is to diversify the recreational opportunities that Luther is offering its students.
"Something that really helped me succeed as a student was plugging into those types of activities and spaces," Helland said. "I want to create opportunities for people to do that in a variety of ways that's not always kicking a soccer ball."
The Rec Services office coordinates a variety of events and activities to get students involved and moving their bodies, but group events are not the only way that students can get outside. Luther has an extensive collection of camping and outdoor gear that students can borrow, as well as things like canoes, kayaks, lawn games and yoga mats. All of this equipment can be checked out free of charge, which is unique to Luther.
"I have looked at what other schools do, and to rent out equipment that could be $25 for a weekend," Helland said. "To have it free for students is really huge. That's another goal, for people to know that they can come and use these things in a place like this."
View this profile on Instagram
The Norwegian word Friluftsliv, which means spending time in partnership with nature regardless of the conditions or season, is part of Helland's mission as coordinator. The Rec Services office is working to allow students to do that in any way that they wish, offering programming for Nordic skiing, snowshoeing, sledding, and more. They are always open to new ideas and suggestions for what students are interested in trying.
"Because we are so new, we're trying different things: things that we know worked in the past, things that are new," Helland said. "If students have something that they want to do, whether it's an intramural sport or a certain outdoor event, I really try to open that space where, if you say, 'Olivia, I want to play broomball on Lindeman Pond', I'll say, 'OK, let's find a way to do that.'"
One of these new opportunities was a camping trip over Fall Break. Two student leaders and four participants ventured out to Yellow River State Forest in Harpers Ferry, Iowa, to spend three days backpacking and camping in the park.
Located 35 miles southeast of Decorah, Yellow River State Forest is home to Iowa's only fire tower, as well as more than 50 miles of hiking trails and opportunities for kayaking, fishing, hunting, and mountain biking throughout the park. The Luther students hiked in with everything in their packs, set up camp, and then hiked the different trails that the park has to offer. They also journeyed closer to the Mississippi River, exploring Effigy Mounds National Monument, Shihata's Apple Orchard, and the areas surrounding Prairie du Chien, Wisconsin.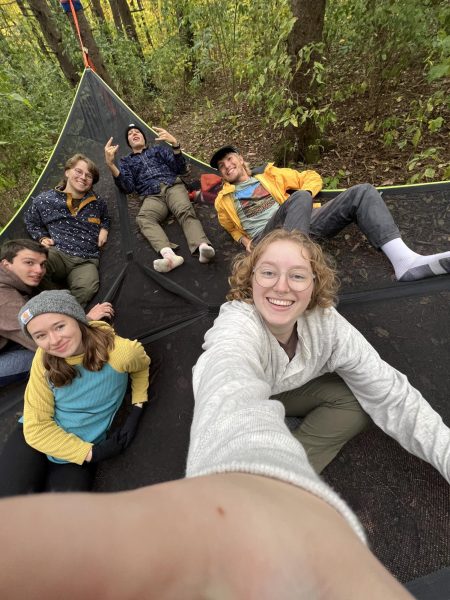 Mara Pankow ('26), a Rec Services student worker, was one of the people who helped to organize the trip.
"It's less leading, and more that I'm the one packing everything and making sure that everything is organized. After that, we're a bunch of college friends hanging out in the woods," Pankow said. "I get paid to be outside, what's better than that?"
The group worked together to set up camp and cook for the group. Confident in their outdoors skills, the group also went foraging for mushrooms, which turned their bagged rice and bean dinners into a delicacy. Highlights of the trip also included sleeping in hammocks and spending time with each other.
"One of the leaders brought his six person hammock- it goes between three trees," Pankow said. "We just played cards on there, and two people slept on that hammock instead of in the tents."