With the calendar flipping to November and the cold weather pushing people indoors, at Luther  we move our attention to winter sports. Instead of high energy penalty kicks, exciting touchdowns and powerful volleyball kills, we get to enjoy speedy swimmers, high flying dunkers, buzzer beaters, double leg takedowns, and powerful bowling strikes.
To get yourself ready and up to speed on the upcoming season, below is a preview of all six of Luther's winter sports. Read about big results from last season, new and returning key players, and American Rivers Conference (ARC) shake-ups.
Men's Basketball 
The men's basketball team finished with an overall record of 9-16 and 5-11 in the ARC last season. While the season had its ups and downs, one highlight was the 95-76 victory over Grinnell to open the season. Ben Gill ('24) led the team with 9.0 points per game (PPG) and .6 blocks per game (BPG) and was awarded ARC All-Conference Second Team.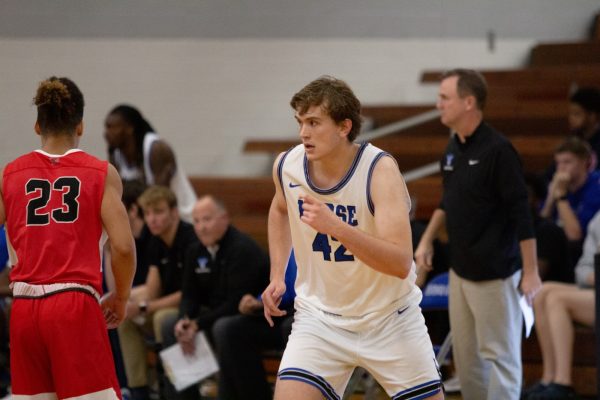 This year's team has a large contingent of veterans  with eleven seniors, three juniors and four sophomores returning. The team has also added 15 first-years. One returning senior, Andrew Lazinbat ('24), started in all 25 games last season and led in minutes, averaging 25 per game. He is joined by fellow senior Gill and junior Aidan Bailey ('25), both who averaged over 8 PPG a season ago.  Guard Matthew Franzen ('24), who was Luther's top three point shooter last season despite missing half the season with an injury, expects a strong showing from his team this year.
"Returning a big group from last year's squad has been awesome in regards to group chemistry," Franzen said. "The energy is high and we are more hungry to keep building as a program."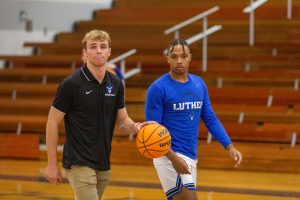 Coached by head coach Mark Franzen and assistants John Androus ('14) and Mike Johnson, this team was predicted to finish seventh in the ARC preseason poll, one place better than their eighth place finish a season ago. Central College, the returning conference champions, are predicted to repeat.
Luther will travel to Grinnell College on November 8 to open their season for the second year in a row against the Pioneers. They will play their first home game against Viterbo University on November 15, before playing their first ARC game on the road against Wartburg College on November 21.
Women's Basketball
The women's basketball team finished 14-13 and 8-8 in the ARC last year. The season was highlighted by a two game trip to Hawaii over winter break, and a ARC tournament first round victory over Coe College 70-64. Their season ended in the second round with a 55-75 defeat to eventual conference champions Wartburg.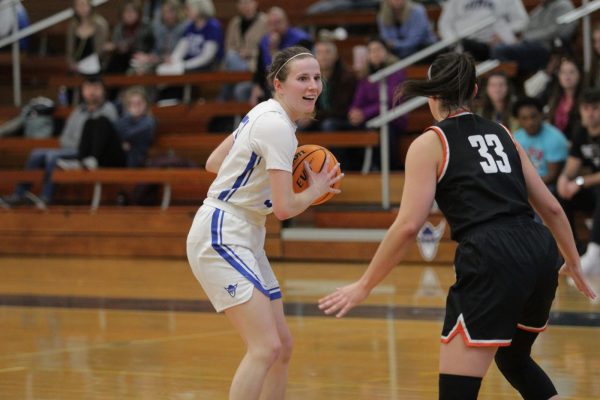 Nine first-years are joining the team along with five sophomores, juniors, and seniors, and one fifth-year senior. Among the returning players are Kailey Jones ('25), who earned All-Conference First-Team honors last year, alongside Jordan Rubie ('24) and Lizzie Kauls ('24) as All-Conference Honorable Mentions. Jones led the team with 12.9 PPG, with Rubie at 10.6 PPG and Kauls with 9.4 PPG. All three women were awarded ARC Player of The Week last season. Megan Miller ('25), the leader in minutes played (30.8 MPG) last season, said she has a lot to look forward to in the coming season.
"Returning nearly all of our main contributors and having freshmen in the mix that will play key roles is going to make us even stronger than last season," Miller said. "We started out our conference play very well last year, and know that added depth will provide us with the opportunity to stay fresh as the season progresses."
Head coach Amanda Bailey and assistant coaches Nicole Mulford and Alison Shearer are looking to improve from their fifth place finish in the ARC last year. They are projected to finish sixth in the ARC preseason poll, with Wartburg predicted to repeat as champions once again.
The team will open their competition against Carroll University on November 11 in game one of the Cornell Classic. Their first home game will be on November 18 against University of Northwestern (MN), before they open the ARC action against Wartburg on November 21.
Men's and Women's Swimming and Diving 
The Luther Men's and Women's Swim and Diving team are each coming off a second consecutive ARC tournament championship last season. The combined teams had 39 All-Conference performers, and have both already begun their seasons. 
The men's team is coming off a second consecutive ARC title. Their coaching staff earned the staff of the year award, while Kevin Kretz ('25) earned Swimmer of the Meet and Colin Halverson ('26) was named Diver of the Meet at the conference championships.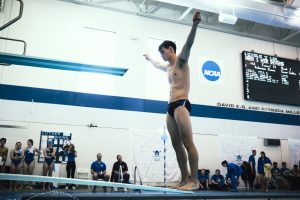 Jack Bell ('25) and Halverson, both divers, qualified for the NCAA Regional in Atlanta with Bell finishing 18th and Halverson finishing 20th. Both men and Kretz are returning to the lineup, along with Jake Walz ('25) who was All-Conference and earned athlete of the week honors.
"The goals for the team are the same as last year, another conference title," Walz said. We hope this year that we are able to (have) a more dominant win than last year."
The Swimming and Diving coaching staff — which consists of head coach Aaron Zander ('10), assistant coach/assistant aquatics director Diana Springer-Doescher ('10) and assistant coach Linnea Lee-Brown ('21) — are looking to live up to the team's number one rank in the ARC preseason poll. The team has already started their season and currently sit at 1-2, defeating Simpson and falling to Nebraska Wesleyan on October 21. They most recently lost to Gustavus Adolphus on October 28, and will swim next on November 4 against Grinnell.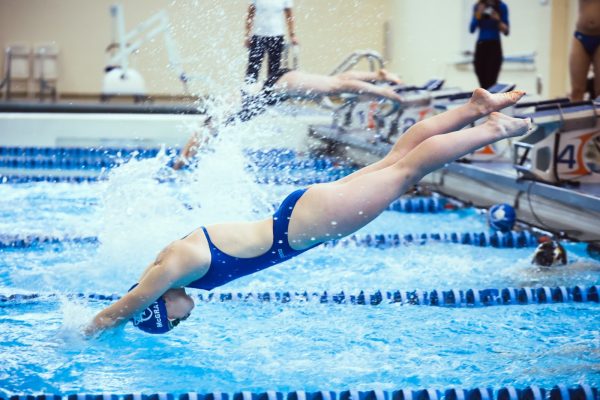 The women's team looks to keep the train rolling this season after back-to-back ARC titles. They are returning All-Conference performers Maia Bumgardner ('25), Nev Nelson ('25) and Anna Barbknecht ('25) — as well as12 more All-Conference swimmers.
They have already had success from the freshman class, with Mia Prater earning ARC Athlete of the Week after her first weekend of competition. She won all three of her events, and helped contribute to the teams first two team victories.
They are also coached by Zander, Springer-Doescher and Lee-Brown. The team started the season with victories over Simpson and Nebraska Wesleyan on October 21. They were defeated on October 28 against Gustavus, and will next swim on November 4 at Grinnell.
Wrestling
The wrestling team was 14-6 overall and 5-3 in dual meets last season. Their season had many highlights, including two wrestlers qualifying for NCAA's and sending one to the podium. Donovan Corn ('23) was third in the nation at the 184 weight class, and Clayton McDonough ('26) qualified for the All-American round at 149 lbs. The team also had an 8th place finish at National Duals, and had six of their ten starters place at the NCAA Regional tournament.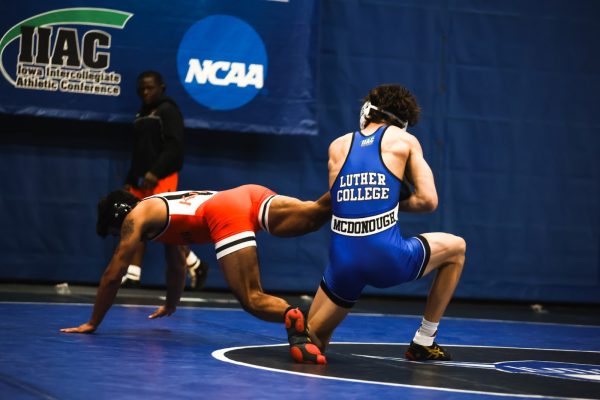 McDonough will lead a team that finished fourth in the ARC a season ago and returns five of six Regional place winners. He is joined by his brother Bryce McDonough ('26), fifth year Cristian Chavez ('24), and Cullen Quick ('25), who are all returning Regional place-winners. The team took fourth in the ARC last season, and only graduated two of the starters. Having seen production from multiple first-years last season, as well as upperclassmen, they are looking to improve their standing in the ARC. They are projected to finish identical to last year, at fourth in the conference, according to the ARC preseason poll.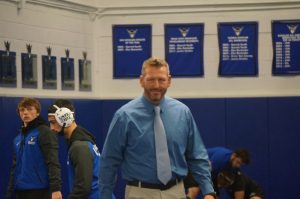 Head Coach Dave Mitchell and assistant coaches Jeff O'Gara and Billy Huebner have been the trio of wrestling coaches for 15 seasons.
"We graduated an All-American and another top 15 nationally ranked wrestler, but we are excited about the development of our guys," Mitchell said. "We are excited for the season."
The wrestling team will start their competition schedule open tournaments on the next three Saturdays. The first will be on November 4 at the Pointer Open in Stevens Point Wisconsin, before they host the Luther Open on November 11, and lastly compete in the Augsburg Open on November 18.
Men's and Women's Bowling
Men and Women's Bowling have officially started their inaugural season as a Luther College sport. Luther made the decision to sanction an NCAA Bowling team in December of 2022, and appointed Dan Bellrichard ('01) as both the men's and women's head coach.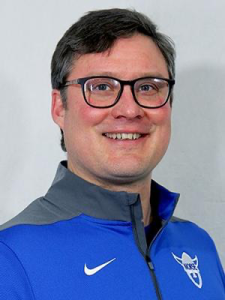 The men's bowling team has a full schedule of competition ahead of them. They competed in Luther's first ever bowling tournament on October 14 and 15 at the Mid Iowa Bowling Conference Meet #1 where they finished ninth of eleven teams. They next competed at the Five Seasons Classic on October 29.
The roster has eight men on it, all of which are underclassmen. Their best performances have come from Jayz Estridge ('26) who finished 36th in their first tournament and 64th in the team's second. The team will have nine total competitions this season. They will next travel to Neenah Wisconsin to compete in the Titan Invitational on November 4 and 5.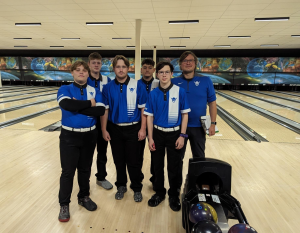 The women's bowling team, although competing as a separate team from the men, will travel to all of the same competitions. They have finished last in their first two competitions, but will have many opportunities for improvement in the coming months.
This team consists of six women with one first year, two sophomores, two juniors, and one senior. They have seen good individual performances from Jersie Benson ('26), Carlie Prymek ('25) and Jocelyn Demiglio ('24). Through the first two competitions, Benson has finished 26th and 62nd, Prymek has finished 30th and 65th, and Demiglio has finished 31th and 82th, respectively.
They are also coached by Bellrichard, and will also next compete at the Titan Invitational on November 4 and 5. They will not have any meets in Decorah, but will compete in the Quad Cities on November 11, Waterloo Iowa on December 9 and February 17, Dubuque on January 20, and Cedar Rapids on January 27 and February 3.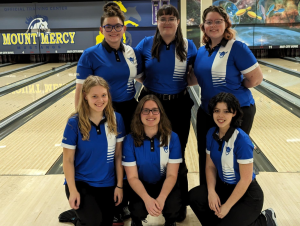 For all Winter Sports coverage (including full competition schedules, updated statistics and gameday results), visit the Luther Norse Athletics website.