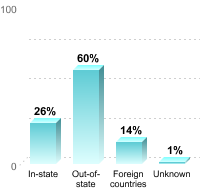 Luther College recently announced an extension on one of their scholarships called the "Iowa Impact" award. It is now available to Minnesota students starting in the coming fall. The award itself offers four years of free tuition to qualifying students.
This award is meant to increase access to higher education and is offered to Minnesota and Iowa residents with a gross household income of $80,000 or less. The issue that I have with the award is not the award itself, but rather the fact that the upgrade was only extended to Minnesotans. Luther claims that this shift is in part an effort to make it easier for Minnesota students, considering Luther's location in the driftless region and proximity to the Minnesota border.
As a Wisconsin resident myself, this comes as a slap in the face considering the Wisconsin border in the Driftless area is just as close as the Minnesota border. In an attempt to make Luther a great option for higher education, I feel as though they have shunned the cheese heads in favor of the "Land of 10,000 Lakes."
It should be noted that Wisconsin, Minnesota, Illinois, and many other midwest states all have reciprocity with each other and Iowa is one of the only states not included in the Midwest reciprocity "exchange". So Luther doesn't extend reciprocity, but according to last year's National Center for Education Statistics (NCES), around 60% of Luther students are out of state students. Plus, many of those 60% of students are from Midwest states.
I value my Luther education and I think that Luther can be a great school, but with the current state of education, Luther simply cannot compete with others in the price category. Wartburg's new "Wartburg Commitment" and the stagnant price of state tuition are putting Luther out of reach for many prospective students. By excluding Wisconsin and other Midwest schools, they are just building up the obstacles that students are having to tackle in order to pursue a higher education.
This scholarship extension will not go into effect until next academic year, nor will any current Luther students be eligible for the scholarship. So you may be asking yourself why I, as a sophomore, care so much. As someone who comes from a lower-income family, I know that it can be extremely difficult to maintain the funds for an education like Luther. Being able to extend this scholarship to Wisconsin and other Midwest states not only allows Luther to compete with rival schools like Wartburg but also gives students like me the opportunity to experience the Luther community and opportunities.