Luther College has received a $2 million donation that will be used to reconstruct the Regents Gym. The donors are Dennis ('64) and Suzanne Birkestrand, and their donation is among the largest individual gifts Luther has ever seen. In their honor, the updated gym will be named the Birkestrand Family Court.
Dennis Birkestrand is not only a Luther alumnus, but a former Luther track runner and football player. His passion for Luther continued to his children as well, as his son Bjorn ('98) is a former Luther basketball player. The Birkestrand family currently resides in Las Vegas, Nevada, but Dennis stills holds his time as a Luther athlete dear to his heart.
"Luther was a major contributor to my life story, and as a result, I want to give back to Luther what they gave me," Birkestrand said. "Athletics is what brought me to Luther.  They showed an interest in me when I was a high school player, and without that, I probably wouldn't have gone to college. I feel strongly about encouraging Luther to always have a very strong athletic program."
This gift from the Birkestrand family is not their first, as they also contributed to the Birkestrand Economics and Management Chair and provided a lead gift to the Legacy Field project. Individual donations are crucial for Luther's improvement of their facilities. Director of Intercollegiate Athletics and Head Softball Coach Renae Hartl is thankful for the Birkestrands and their gift, and is looking forward to its impact for the athletes.
"All our teams that practice and compete here in the Regents Center gym are excited for what these changes will mean to them," Hartl said. "From volleyball to both basketball teams and our wrestling program, they all send their profound thanks to Dennis and Suzanne for this gift."
The $2 million donation follows last year's dedication of the renovation of the Robert and Ann Naslund Sports and Recreational Center. The $1.2 million renovation included dedication of the overall space along with the Oertel/Leake Courts and the Neubauer Indoor Track, both named for former Luther head coaches.
The historic court will be completely renovated with a new gym floor, and bleachers that will completely surround the court. Currently, Regents Gym serves as a practice space for basketball and volleyball, as well as the main competition gym, so the new plan will not only provide a better practice environment but an arena-like feel for competitions. Athletes are excited about the news; wrestler Bryce McDonough ('26) hopes competing in the new gym will be an empowering experience.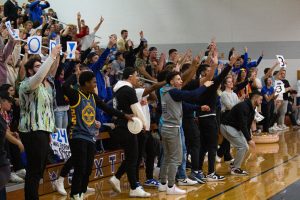 "I think that the $2 million gift from the Birkestrand family for Regents is going to have a huge impact on my athletic performance later on in my collegiate career," McDonough said. "If Regents is revamped and renovated for my last years at this college, it will provide more opportunities to stay healthy as an athlete for myself and many others."
While there is no current estimate on when the court will be built, it will certainly have an impact on the overall strength of Luther athletic facilities. Through the contributions from the Birkestrand family, they hope to see continued success for the college and all of their sports teams.
"Hopefully the whole project is going to make the whole school much more attractive to all students, not just student athletes," Birkestrand said. "While my desire is to always open the Sunday paper and see Luther's success being published in the sports section, I'm hopeful this will be one of the engines that will make that happen."
More information about the donation and renovation plans can be found at luthernorse.com.