Luther Women's Tennis complete season undefeated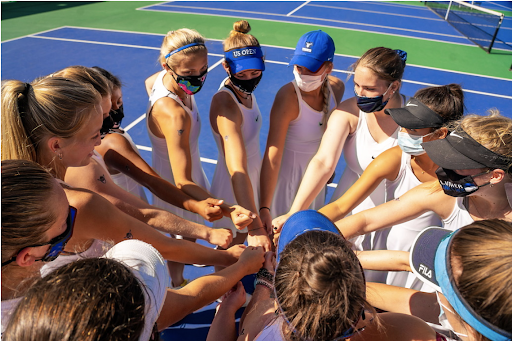 The Luther College women's tennis team secured an undefeated season for their 29th American Rivers Conference (ARC) Championship with a 9-0 win over Coe College on October 11th. The team had a very successful competitive season; none of the match scores in their eight conference matchups were closer than 7-2. Head Coach Adam Strand ('04) and Assistant Coach Dustin Rhoads identified the 8-1 win over a previously undefeated Wartburg College as the season's crowning achievement.
"On [the day of the Wartburg match], our women really came to play and brought a lot of energy and confidence into each match," Strand said. "I was impressed with our composure during challenging times and loved the positive body language that was shown by our players."
A week later, on October 17th, the Norse traveled to Des Moines for the ARC Women's Individual Tournament. This event allowed every member of the team to participate in at least two matches. Overall, nine Luther athletes won medals at the event. In A-Flight, Devin Bourget ('21) and Shelby Cook ('22) placed 2nd and 3rd in singles while the team of Lexi Hastings ('23) and Sofia Sackett ('24) placed 3rd in doubles. In B-Flight singles, Cassie Magee ('24) placed 2nd and Aurora Schossow ('23) placed 3rd; In C-Flight singles, Hope Gray ('21) also took 3rd. Emily Rubbelke ('23) and Jessi Lambo ('24) won the B-Flight doubles championship. Additionally, Jalen DenHartog ('23) and Kiley Nolan ('24) finished 4th in B-Flight doubles, while the team of Emily Rubbelke ('23) and Jessi Lambo ('24) won the B-Flight doubles championship.
"Being a freshman, I really had to adjust to a new environment, and my partner [Emily] helped me a lot," Lambo said. "I'm proud of how we played,"
Overall, Coach Strand was very happy with the determination and focus shown on court by the team.
"I think our team came away from Saturday but also from the entire fall season realizing that we have grown a lot as a team in the past two months, but that we still have so much further that we can go to continue on the path of coming together as a team and improving as tennis players as well," Strand said. "Our players also made sure to embrace the opportunity to compete one more time this fall."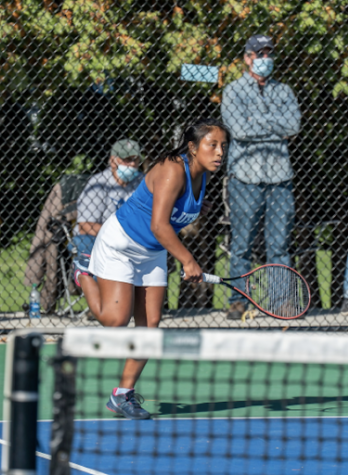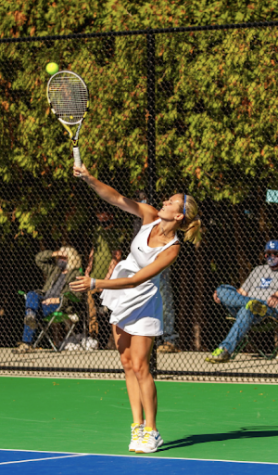 While the team rolled through their conference schedule, working with COVID-19 protocols added a new challenge for both coaches and players. Tennis is, by nature, a sport that promotes physical distancing, so the team was able to socially distance properly during practices and competitions throughout the season. However, COVID can still cause complications, like scheduling and fielding a team.
"It's taken a huge team effort from the [American Rivers] Conference Commissioner, President Ward, Athletic Director Renae Hartl, [Head Athletic Trainer] Amber Suckow and her training staff," Strand said. "All these people have had to come together and provide their expertise and their support for us to be able to do this."
Coaches and players acknowledged that COVID wasn't just an issue while the team was practicing and competing. The pandemic and protocols enforced on campus made it complicated for the team to bond. For example, the team would typically attend a group dinner at the Head Coach's house, but they could not hold that event until very recently when a COVID-safe method was agreed upon. Despite this, the tennis team worked hard to build connections amongst each other on the team ‒ from a distance, of course.
"I feel I have created a stronger connection faster than I had last year with my teammates, but it is still a challenge," Schossow said. "The team high fives and embraces are now exchanged for my communication of encouragement and words of endearment, which is also a vital part of being a team."
After winning the American Rivers Conference, the Luther Women's Team will be hosting the ARC NCAA Automatic Qualification Tournament from April 30-May 1, 2021. Hosting this event was a goal for the team this year, and they hope to qualify for the NCAA National Tournament in the spring.
Leave a Comment