Faculty Feature: Visiting Professor Dr. Emily Ellsworth
For the 2020-2021 academic year, Visiting Professor Dr. Emily Ellsworth has joined the Luther community as a music department faculty member. She is working as the Director of the Aurora and Collegiate choirs.
Born and raised in Chicago, Illinois, Dr. Ellsworth comes from a musical household. Her mother, a pianist, was highly dedicated to teaching the importance of music and Dr. Ellsworth to musical events when she was young; she had the opportunity to see performances from artists and composers such as Igor Stravinsky, Aaron Copland, and Vladimir Horowitz live. With such amazing music experiences, including listening to her mother playing classical pieces on the piano at home, Dr. Ellsworth gained a lifelong love for the art, which led to her desire to work in music. After her music education, Dr. Ellsworth began her music career as a professional singer and performer. However, it was only for the short term.
"I had a very debilitating stage fright, which I do not have as a conductor at all," Dr. Ellsworth said. "I always absolutely loved teaching. It was more enjoyable for me to help someone else find their voice, and it was something that was very important for me and I loved it."
Ellsworth then started a company called "Opera for the Young" in the 1990s, where she conducted and taught young singers. Having never worked with children before, she was amazed by how receptive they were to music. Dr. Ellsworth appreciated the infinite possibilities of working with young people and continued pursuing her vocation conducting and teaching youth. Following her establishment of the company, she began work for Anima, a world-class children's chorus, and eventually became the organization's Artistic Director.
"The age of the student in the room isn't what determines excellence," Dr. Ellsworth said. "What determines excellence is if the teacher knows what they are doing; if the materials are correct and age-appropriate; if the expectation is set very high and if there is a lot of caring for the people in the room so that people are motivated to do their best."
With the young singers, Dr. Ellsworth performed with the Chicago Symphony and the Lyric Opera of Chicago numerous times, as well as traveling domestically and internationally across six continents. She received many national awards and acclaim for her world-class performances with the youth chorus.
"To me, it is not so much about getting an award," Dr. Ellsworth said. "It is the acknowledgement that I really am doing what I am supposed to be doing."
After much experience with Anima, Dr. Ellsworth decided to switch to guest conducting, but the COVID-19 pandemic disrupted this. However, Ellsworth heard through choral connections that Luther College was in need of a music director, following the departure of Dr. Jennaya Robinson. Dr. Ellsworth expressed her joy about being on the Luther College campus to conduct two choral ensembles.
"This is a temporary position, but a lovely adventure," Dr. Ellsworth said. "It came at a wonderful time where I was able to hopefully help Luther; and Luther certainly gave me a wonderful new opportunity."
Students of Dr. Ellsworth currently in Luther expressed how much they feel happy and valued for working with and learning from her. Rachel Tully ('24), a member in the Aurora choir studying vocal performance, described her experience with Dr. Ellsworth.
"She definitely had a warm and inviting personality, so she made me feel comfortable right away," Tully said. "This was in the beginning of my college experience, so it was nice to have someone who was sort of new as well, so it was nice to have someone kind of relate to that. She's definitely very inviting in that sense."
Emma Kuehl ('21), a member of the Collegiate chorale studying vocal music education and sociology, expresses her thoughts on Dr. Ellsworth's work at Luther College.
"She has this wonderful personality that was very inviting and welcoming," Kuehl ('21) said. "That is a hard thing to do in a choir rehearsal where, with the precautions we are taking, we are so spread out. Her personality just radiates even through her mask!"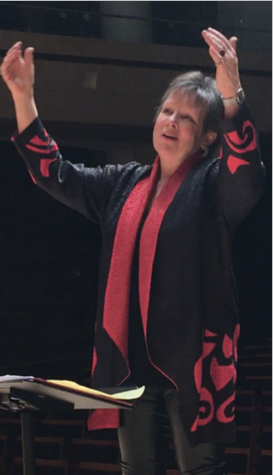 Leave a Comment