Satallite Voting on Luther Campus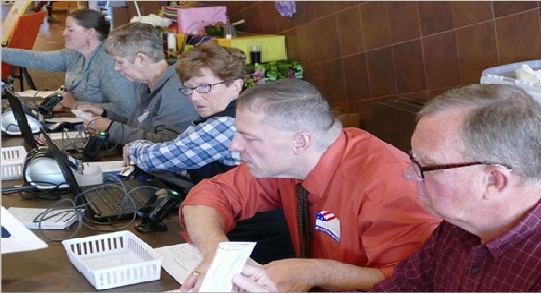 On October 13 and 21, Luther College and the County Auditor's Office arranged for early satellite voting to take place in the Dahl Centennial Union. This event marks the fourth time in Luther's history that students could vote on their way to eat.
Material advertising the event was displayed across campus, including sample ballots, QR codes, and how-to posters, all encouraging students and faculty members to vote. Even the sidewalks surrounding Bentdahl Commons were covered in chalk messages encouraging students to use their voices and electoral power.
The event was developed to erase a central barrier that may prevent students from voting: accessibility. Many students do not have access to transportation, and with the impending winter conditions and the carpooling risks presented by COVID-19, to some, voting on campus is the best solution.
"It's difficult to get to the courthouse," Maggie Haller ('24) said. "But being able to go to the Union and take 20 minutes to vote after lunch is really helpful."
Voting at Luther can be particularly impactful, as far as elections go. Iowa, and Winneshiek County specifically, has been notoriously close in many elections. The county only went Republican in the 2016 presidential election by about 120 votes (Data USA).
In Decorah, people age 18-24 make up about a third of the population (United States Census Bureau), and young voters have a tendency to lean left (Pew Research Center), which means students could potentially have a lot of influence depending on whether or not they vote.
"The elections here really affect Luther," President of Luther's Environmental Concerns Organization Logan Olson ('22) said. "It's important that we really work to get students engaged in this. That's why posters, flyers, and messages in the bulletin are so important. They catch students' eyes, and at the very least encourage students to make a plan to vote."
This year, 207 people voted on campus. COVID-19 and the importance of this election have made that number a little lower than the coordinators anticipated. Many people are cautious about voting in person and plans to vote remotely have been formulated ahead of time. Consequently, the United States Postal Service has been overwhelmed by mail-in ballots. However, questions of the legitimacy of absentee voting have risen in the last few months. While those claims have mostly been dismissed, there is still some degree of public suspicion and doubt surrounding voting by mail.
Uncertainty about counting one's absentee vote has encouraged some students to vote and register on campus. Haller, originally from Minnesota, voted for the second time on campus, switching her registration to Iowa.
"Everyone was really helpful and lovely," Haller said, about the registering experience. "There weren't many people there, so I didn't feel rushed."

Information about what was needed to register was posted around campus, making the process as easy as possible.
The only thing that students felt was missing at the polling station was comprehensive information about each candidate.
A candidate forum with three local Democratic candidates was hosted by ECO the evening before the last Satellite Voting Day. Students, staff, and faculty could ask the politicians (candidates from other parties were invited to join, and they declined).
While helpful, this event only provided limited and one-sided information about important races. Haller and Olson agree that Winneshiek County should do a better job of informing voters.
"I didn't know who the candidates were, and we live in a small area so there's not as much information to help you form opinions and feel strong in them," Haller said. "We really need something that compiles that information for people."
Olson agreed, and insisted that Luther should continue to keep accessibility to voting a top priority in the coming election races.
"I think that Luther could do a lot more to prepare students," Olson said. "Barriers to voting are all over the country, and I think Luther should be doing as much as possible to make voting accessible to students."
If you missed the Satellite Voting event, students' next opportunity to vote would be on Election Day, November 3, from 7:00 am to 9:00 pm at Good Shepherd Lutheran Church.