Cross Country runners near end of fall season
This weekend, the Luther Men's and Women's Cross Country teams competed in a triangular meet against Coe College and Simpson College. The meet was held at Seminole Valley Cross Country Course in Cedar Rapids, Iowa. It was the final competition for both teams before the American Rivers Conference Championship.
The Luther Women placed first in their triangular with 18 points; Simpson had 40 points while Coe (who only had four runners in the 6K race) was unable to post a team score. On the men's side, Luther placed second. Simpson won the team title with 25 points, five points ahead of the Norse, who had 30. Coe placed third with 81 points.
Luther captain Amelia Hornseth ('21) won the Women's individual title with a personal-best time of 23:00.
"I got a good second wind with about 1200m to go," Hornseth said. "It was a pretty decent PR for me, and I've never placed first at a college cross country race before, so that was fun."
Besides Hornseth, other Luther athletes performed well at the triangular. In the women's race, Heather Hostager ('22), Lauren Berg ('22), Stephanie Lewis ('23), and Katie Fetting ('22) finished third, fourth, fifth, and sixth, respectively. Anneke Knauss ('22) finished eighth. In the Men's race, the top-five finishers for Luther took fourth through eighth. In descending order; Ian Kelly ('23), Connor Gregg Escalante ('24), Sam Schillinger ('22), Tom Altier ('22), and Adam Koller ('24) all finished within a minute of each other. Caleb Burjes ('22) finished 12th and Colin Beck ('22) finished 14th.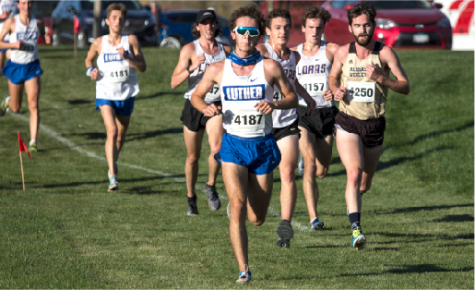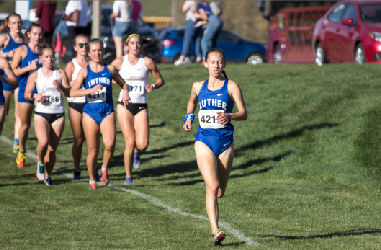 One specific tactic that the team has been working on is finding "their race rhythm" — trying to be patient at the start of a race to save energy for the final stretch.
"It's easy to get caught up in the moment at the start of a race and end up running too fast early on," Gregg Escalante said. "Starting slower, I notice as I pass by the halfway point that I'm thinking about catching other people and racing aggressively."
The team is planning to build on this success at the conference championships, which happen in two weeks.
"This was a big step forward for us as a team," Luther runner Waleed Yual ('22) said. "However, this meet was not our peak. We have more in us for the conference championship."
This is a unique season for the whole cross country team due to the pandemic. Most NCAA Division-III cross-country programs are not currently having their seasons. Teams in the American Rivers Conference are one of the few who are competing.
"Although things are different this year, this is still the same Luther cross-country team that I love competing with," Hornseth said.
The American Rivers Conference Men's and Women's Cross Country Championships will be held on Saturday, November 7, at Central College. The Women's race starts at 2 pm while the Men's race begins at 3 pm.
Leave a Comment