Development of Art Installation "Hostile Terrain 94" is under way at Luther
Luther's Anthropology Department is participating in the nation-wide project to manifest the struggles and dangers of undocumented immigration through the US-Mexico border. The project, Hostile Terrain 94, includes a short video presentation, followed by participants filling out toe tags to represent the lives that have been lost in the Sonoran Desert due to harsh conditions.
These toe tags contain the various details of a recovered individual found at the border. Details include the name of the deceased, their age, cause of death, body condition, and the geographical coordinates where they were found. The toe tags are arranged on a map according to the coordinates. When the art installation development is complete, participants and visitors can expect to see a collage of hanging toe tags, each representing a life lost.  
The project was founded by Jason De León, Professor of Anthropology and Chicano/a Studies at the University of California, Los Angeles. De León used to take groups of students to the desert to study the paths migrants take and show them the harsh conditions they have to experience to come to the United States. One day, a group of students found the body of someone who had died on their journey, which led to the Hostile Terrain Project's development. 
In 1994, the Clinton Administration enacted the immigration enforcement strategy known as "Prevention through Deterrence," or PTD. This policy led to the construction of walls and fences on the southern border of the United States in cities and other popular places, in effect funneling migrants through the Sonoran Desert. The policy's basis was that the conditions in the desert were so harsh that people would not want to cross the border. Yet, instead of deterring undocumented immigrants, the policy only increased the danger of the journey. Over 3,200 people have died since the policy was enacted in 1994. Salomé Valdivieso Santillán ('23) is one of the students who helped plan the event.  
"The main goal of this project is to humanize people, and make visible the lives of people who have died crossing the border," Santillán said. "This is personally very important because a lot of people see migration just as a political issue, but there are actually people dying in the desert, and we don't talk about that human aspect so much."
Rose Torti ('22) was another student involved in the planning and implementation of this project. Her role has been to ensure the safety of project participants during the pandemic. She provided her perspective on the installation.
"I hope it brings awareness to the subject, and also humanizes the numbers we have seen a lot," Torti said. "We see 'this many people attempted to cross' and 'this many people are undocumented in the United States.' I think putting a name, and an age, and where they died is a way to understand it a bit better, and humanize it."
Torti also stresses the importance of voting to alleviate this humanitarian crisis and inform themselves about global issues.
Luther College Anthropology Lab and Collections Manager and Instructor in Museum Studies Destiny Crider has played a large role in planning this event at Luther. Crider used to live in Arizona, where the issue of immigration is quite literally a local issue.
"I think it was really important to bring this here so that our students, and our community in general, can get a better sense of what is in our daily news in the southwest," Crider said. "Here, it only comes out in extremes, so I think it's a way to focus conversation and dialogue in the community rather than rhetoric."
The problem of the rhetoric versus the reality of things is also something Crider wants people to understand. Iowans may be more geographically detached from immigration issues, but according to Crider, they affect all of us. 
"I think it is important for people to understand the policies, and understand that their votes can impact the direction of policies," Crider said. "[PTD] was actually administered under the Clinton administration, so this is not a Repulican/Democrat [policy], this is an American policy we have had for the past 25 years. What we have seen is an increasing rhetoric about immigration, an increasingly dangerous rhetoric."
Santillán is an international student from Ecuador, so migrant issues and attitudes toward migrants are more personal to her. She believes that people take for granted the existence of Latinx people in the United States.
"America is built upon the work of blue collars, and those blue collars have brown skin," Santillán said. "This country takes advantage of undocumented or illegal labor, and we don't think about this. Many times, people discriminate against Latinx, Hispanic, or Brown people without realizing they are the backbone of this country."
Santillán also wanted to call on her peers to focus on migration issues.
"Being a migrant in this country can be very frustrating because you see all these issues and a very unjust system, and you feel that sometimes your hands are tied," Santillán said. "We can advocate and we can do these activities, but in the end, this has to come from the US citizens as well. This is a call to my white peers and my peers who have legal status here: the right to vote is very important, and recognize that people are not numbers. These are real people with real families. Sometimes I think the media and politicians tend to dehumanize those faces."
Students, staff, or faculty can still participate in this project. Email Destiny Crider at [email protected] to set up a time and a location. The next session will be on October 30, and an RSVP is available on the Center for Ethics and Public Engagement (CEPE) webpage on the Luther website. There will also be various pop-in sessions where anyone is welcome to stop by and fill out a toe tag.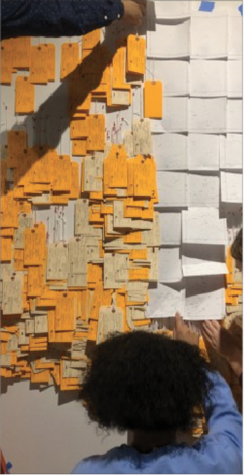 Leave a Comment