Luther Mens' and Womens' Swimming
On October 24, Luther's Mens' and Womens' swimming teams traveled to Lincoln, NE to take on the Nebraska Wesleyan Prairie Wolves for their first season. The women won 143-60 while the men lost 62-135.
For the Luther women, they had 1-2-3 finishes in the 1000 and 200 freestyle and a 1-2 finish in the 500 freestyle. The first-place finishes came from Linnea Lee-Brown ('21), Britt Huss ('23), Maddie Shea ('24), Shakira Herrera ('22) and Anna Thomley ('22). Shea set a Nebraska Wesleyan pool record for her performance in the 1000 freestyle. Additionally, the team of Lee-Brown, Huss, Herrera and Margaret Petellin ('24) won the 200 medley relay with a time of 1:55:47.
"It was super exciting to get back and compete again," Lee-Brown said. "Compared to last year, [the relay time] was faster than our time going into our conference meet at the end of [last] season, which was really good, considering it's our first meet."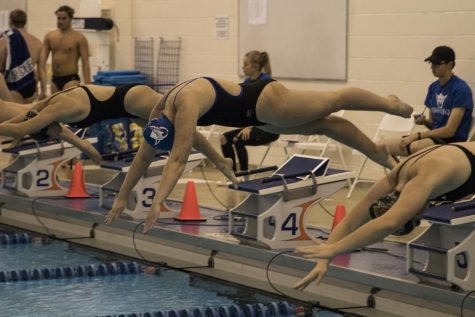 The Luther men had a tougher day; Kyle Anderson ('21) secured Luther's only first-place finish, in the 500 freestyle. He also had a second-place finish in the 100 butterfly. Soren Gloege Torp ('21), Matt Benson ('22) and Jack Meehan ('23) also finished in second place in various events. Earlier in the meet, the team of Benson, Gloege Torp, Anderson and Meehan finished second in the 200 medley relay.
"The guys swam a shorter lineup, so the meet was a little more challenging for them, especially coming off the week of practice we had," Luther Swimming and Diving Head Coach Aaron Zander said. "I'm really happy with how they swam; [Some swimmers had] some really nice time drops from the first meet last year."
The season opening dual meet was the first of seven scheduled events for Luther. It was the first time that many Norse had swam competitively since the 2020 Liberal Arts Championships, eight months ago.
"I hadn't swam either [the 100 and 200 freestyle] since February, [so] I didn't have any expectations for how it would go," freestyle swimmer Britt Huss ('23) said. "The 100 was a good race, with someone next to me the entire time, but I was pretty much alone on the 200."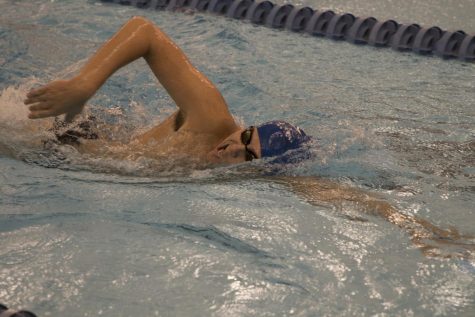 COVID-19 has affected swimming just as much as any other sport. The main change for swimmers is the format of their practices. Each team is separated into "pods," groups of 3 swimmers who do not necessarily share events.
"I've got three breast strokers in one group, [while] I've got two sprinters and a single distance swimmer in another," Zander said. "We devise the groups through classes, so the combos on swimmers can be pretty funky."
In addition to practices changing, mask requirements apply to swimming too. While athletes don't have to wear a mask while a race is being swum, they are required at all other times. The Luther swim teams bring three masks per person along with them to account for one or two getting wet during the meets.
Both Luther swim programs will be back in action in Cedar Rapids on November 7th, when they take on Coe College.
Leave a Comment