Physics and Chemistry departments host Haunted Lab
Luther College's annual Haunted Lab is a Halloween-themed demonstration of science experiments for children. The video was posted on October 28 to the Luther College YouTube page. Hosted by the physics and chemistry departments, it included demonstrations of the experiments, lists of ingredients, and commentary on each experiment.
Members of the physics and chemistry departments started coming up with experiment ideas and even recorded a few in August, before any students were on campus. Due to COVID-19, this year was different from previous year's Haunted Lab. Physics major and vice president of the Society of Physic Students Dalton Ludington described how the idea for a video lab came to be.
"This year we still wanted to do something even though we couldn't have the Haunted Lab in person," Ludginton said. "So we were brainstorming ideas on what to do, and the idea of a video came up."
Because the event was virtual, contributors who worked on experiments decided to do new experiments, some that couldn't even be done at home. Physics major and president of the Society of Physics Students Owen Johnson ('22) described the video process for the lab.
"We came up with a ton of new demonstrations that we've never done because we had to go for cooler demonstrations that we generally couldn't do around children," Johnson said. "And we were filming two to three hours every weekend up until now, and a bunch of planning meetings in the summer. "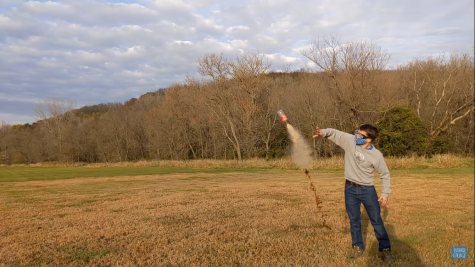 The Haunted Lab is not only meant to teach children how science works, but to also spark interest in it. Associate Professor of Physics and advisor of the Society of Physics Students Dr. Erin Flater edited the video and shared her goal for the Haunted Lab.
"One of the messages we want to get out about the video is that anyone can do science, anyone can do techy stuff, and anyone can enjoy [the experiments]," Flater said. "We want to get the idea out to kids that science is fun and everyone can learn science. And to just have a little bit of experience with science and have a little bit of fun on Halloween."
Not only was this beneficial to the kids, but it also gave students an opportunity to practice explaining and conducting experiments. Chemistry and Math major Meghan Rice ('22) conducted some of the experiments in the video, and shared her experience with the Haunted Lab.
"As a scientist, a lot of your work is collaborating with other people," Rice said. "And this gives you a good opportunity to practice explaining what happens [in experiments] to different audiences."
The Haunted Lab video is available on Luther College's YouTube channel, and has already acquired 336 views. Associate Professor of Chemistry and Chemistry Club advisor Dr. Claude Mertzenich was pleased with the results.
"The whole Haunted Lab really originated out of the physics department," Mertzenich said. "It's been going on for many years, but of course, this is the first time it's been done on a video format, and it was really well done."