Halloween at Luther
The Student Activities Committee (SAC) at Luther put together a number of Halloween themed activities to get campus into the spooky spirit. While Halloween at Luther has never been a week-long celebration, SAC saw this as an opportunity to engage the student body in Halloween-themed activities. With socially distanced events–both large and small–throughout the week, SAC was able to create an interactive and eventful holiday week for Luther students.
"A lot of students expressed interest in wanting to do things with friends that were safe and fun," SAC Vice President Andrea Blocker ('21) said. "So this is our way of using student money to give back and have some fun, even though this is a really stressful and isolated time."
Activities included pumpkin decorating, a "poke a pumpkin" event, a costume parade, a virtual trivia event, a Hollywood murder mystery virtual event, guessing games, and a double feature movie in the CFL which ended the week's festivities. Students could also guess the weight of a pumpkin in the Union, and could pick up Halloween candy outside the SAC office all day.
Each of the five committees within SAC took on a different activity, and they each used a unique style to bring it to life. SAC Cinema took charge of the double movie feature and the trivia, Homecoming planned the photo booth and paint a pumpkin, Concerts made the snack mix in the Union and the "guess the weight of the pumpkin" event, Service decorated the SAC office, and Entertainment managed the "poke a pumpkin" event. With a full week of different activities for Luther students to participate in, SAC worked to balance life amid a pandemic with life as a college student. President of SAC Madeline Pope ('21) explained why this was so important for campus during an isolated time.
"It's been a big adjustment since we usually do all in-person events," Pope said. "We really missed out on being involved in freshman orientation. We spent a lot of time thinking about how we could make people feel connected even if we couldn't be together, or even meet the new students that we don't know yet. We've come up with some creative ways to try and put on events that students will still really enjoy."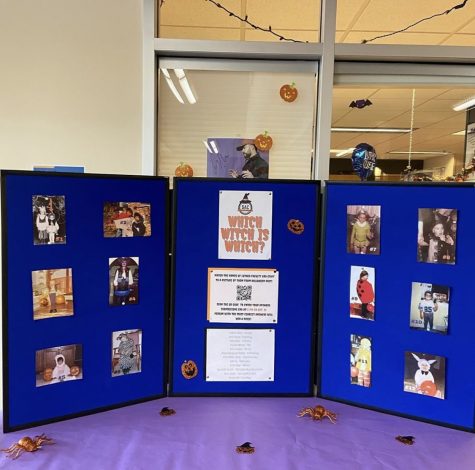 With the restrictions in response to COVID-19, forming relationships across campus has proven to be more difficult than in past years. For first-year students especially, Halloween at Luther provided a social outing to help foster connections among fellow students. The double feature movie at the end of the week featured Halloweentown and Halloween (2018), bringing together students in CFL while observing physical distancing.
"It was really nice to have somewhere to go and hangout with friends," Emma Gibson ('24) said. "The movies were really well organized. They provided popcorn, candy, and glowsticks. The movie thing is definitely something I would do again."
Despite the special circumstances, student organizations like SAC are trying to keep the community engaged with one another. Because student organizations are composed of students, Pope explains that the organizations are here to engage with their peers.
"Even though this is not a normal year, we are still a Luther community," Pope said. "We are still here for students. We still want to interact with students, even if it looks different."