Norse of the Week: Landon Albro
This week's Norse of the Week is senior Landon Albro ('21), who is on the Luther Swimming and Diving team. Albro competes in breaststroke and diving events, and recently won the 3-meter diving event against Coe College on January 16th with a score of 371.55. This is Landon's fourth year on the swimming and diving team.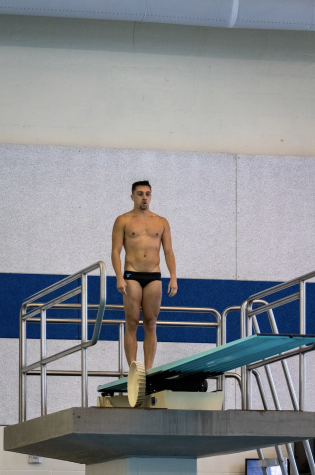 How did you get started with swimming?
I started swimming in my eighth-grade year after I had tried a couple of other sports in middle school. I started with a club team; they had a "try it week" and I thought, why not try [swimming] and see how it goes. Eventually, I swam all four years for my high school in Waterloo, Iowa.
How has being an athlete changed your college experience?
It has definitely made me focus more on school since I have such a limited amount of time for academic work. I have also met more people by interacting with athletes from a variety of different sports.
How long have you been a part of the Luther College Swimming and Diving Team?
I have swum for Luther all four years and have been diving for two years. I got into diving my junior year because I had surgery between sophomore and junior year. The surgery had left me weak in one of my hands, so I wasn't able to swim strokes correctly. Diving gave me the opportunity to still be a part of the team and still get points at meets. Originally, the goal was to try diving and see what happens. Luckily, it was a success.
What has been your favorite part of being an athlete at Luther College?
Being an athlete has given me the chance to feel as though I am a part of a family. Our swimming and diving program is like one big family, where everyone is treated like a brother or sister.
How has COVID-19 changed the swimming experience from previous years?
It has definitely been an adjustment this year. There are fewer people in the pool, which benefits us because it means there are fewer people in the lanes. [Because of COVID-19] we are swimming with only one other person, compared to having four or five people in lanes during previous years. There are also fewer shenanigans on the pool deck. It's hard not having the meets that we used to have. We have only had three meets so far, and we would have had seven or eight in previous years. The only meet we have traveled for was [a meet against Nebraska-Wesleyan in October]. Otherwise, all of the other meets have been at home, including our championship meet.
What is your favorite pool to swim in?
Our pool. We have the best pool in the conference by far. There is no question there.
Who is someone you admire and why?
I would say [Luther Head Coach Aaron Zander]. He is hard to describe. He is a very passionate man about swimming and about every swimmer he has. He doesn't have favorites and he encourages you to swim as fast as you can, but isn't in your face about it. He is very understanding and sets priorities for you. As in, it is school and health first before swimming. He is always there for his swimmers, no matter what. It could be related to school, swimming, or something personal. He is always there to support us.
Leave a Comment