"Painting is a tool for insight": Wendell Arneson ('68) Gives Artist Talk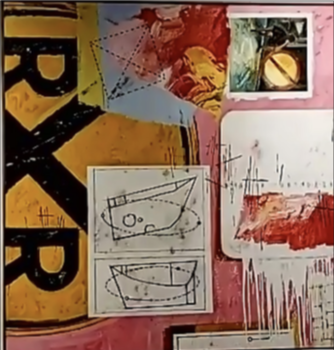 Wendell Arneson ('68) gave an artist colloquium talk to Luther College visual art students on Monday, February 15th. He focused on the development of his artistry and his approach to the visual arts discipline. Much of Arneson's recent work surrounds issues of human migration and displacement. For Arneson, his art's ability to engage in these conversations stems from how art poses questions for the artist and observer alike to wrestle with. 
"Painting for me is not a replica for life, but rather a tool for insight," Arneson said. "It's a vehicle to ask questions, and a tool for self discovery. Art for me doesn't provide answers but creates an opportunity––even an obligation––to pose questions."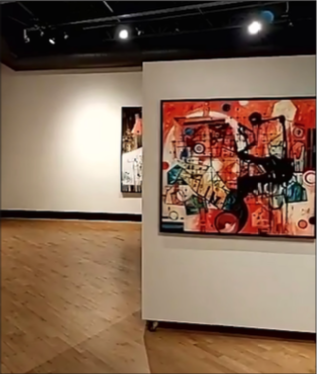 Students who participated in the Zoom seminar could pose their own questions to Arneson. Catherine Vitt ('22) asked about the moment Arneson was drawn to the issue of displacement and migration. Arneson responded that becoming a father had a profound effect on his work, explaining the impact of the then-widespread story of a father and son being killed in the crossfire amidst the West Bank's violence in 2000. Arneson had just become a father four years earlier. 
"The father and son huddled down next to a retaining wall, and the father was grasping the child in his arms to protect him," Arneson said. "Both were killed in that crossfire. Being a recent dad, it hit me like a ton of bricks. That's what precipitated the painting you have on campus, called 'Village.' The father and son images are actually in the top center of the piece, and there's an elongated hand holding a head shape, and that's what that reference is."
As an art history major, Vitt attended the talk and wrote an article about Arneson's piece titled "Refuge" currently on display in the library. She explained her view of Arneson's work ethic and approach to design.
"He works with symbols and different forms, and really likes collage," Vitt said. "He puts [the forms] together in different ways, and it's almost like he does four to five hours of intense philosophy-type thinking every day, because he's putting them together in different ways to think about how he can initiative different conversations."
Penelope Onsrud ('23) helped set up the show, spending a few weeks surrounded by Arneson's work. She noticed many of the symbols Arneson employed in his works, and as a visual artist herself, Onsrud valued Arneson's dedication and physical approach to his art. 
"I admire how he enjoys the physical act of painting," Onsrud said. "He talked a lot about how he likes to have this record of time passing in each of his works, and I think that's something I look up to as a visual artist––really valuing the journey the way that he does and not just focusing on the product."
Arneson explained what creativity means to him as a professional artist, noting that creativity is a way for an artist to engage in deep reflection and thinking to achieve some sort of transformation.
"Creativity demands we step into the unknown," Arneson said. "Faith and the creative process, and ultimately art creativity in general, is not directed by the product, but by the passage of time, of thought, of vision, of your intensive observation and mine, and also a time commitment. Creativity grows out of a desire for change and the discipline to continue that quest."
Leave a Comment