Luther College Counseling Services and College Ministries invite the student body to contribute to Memorial Tree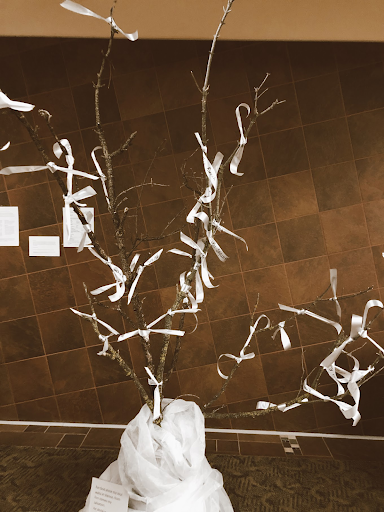 On March 16 2020, President Jenifer Ward sent out an email to the students, faculty and staff of Luther College informing them that there would be a shift to online learning due to the COVID-19 pandemic. Nearly a year later, Luther College is back to in person instruction, but the Luther community understands that many people have experienced loss during the past year. Because of this, Luther College Counseling Services and College Ministries introduced and implemented a Memorial Tree in the Union. Director of Counseling Services Meg Hammes ('91) believed the tree would help show support for Luther community members navigating grief and loss.
 "Our office has been hearing about the significant number of people who have experienced loss across campus," Hammes said. "Not only do we hear about grief and loss from students, we are hearing more and more from our staff and faculty colleagues. Navigating grief and loss on our own is challenging. Knowing we are all feeling disconnected as a community, it felt important to acknowledge and recognize our grief and loss within our community." 
The tree gives students a chance to release some of the stress and emotion that is typically felt after someone important in their life passes away. The counseling staff worked hard to try and give students an additional space to have everyone see that they are not alone in grieving their loss, that there is a community surrounding them here on campus. 
There is a table located to the left of the tree with white ribbon and sharpies for students to tie the name of someone they lost onto the tree. Administrative Assistant of Counseling Services Kendra Franzen explained that several ideas were discussed as to what was the best way to implement the tree and ensure that students can easily access it and place a name on the tree.
"We discussed several ideas and settled on the idea of the tree and ribbons," Franzen said. "Something simple, yet meaningful. All can fill out a ribbon with a name, a loss, or a thought, tie it on the tree and release some of the pain, or burden of carrying the pain." 
Luther College Ministries was also involved in the creation of this memorial tree. Interim Pastor Mike Foss helped the counseling staff decide on a location that all students can access and see the tree, as well as deciding what devotion to put up next to the tree. 
"Meg and her staff came up with the idea of the memorial tree," Foss said. "I loved it – mainly because it allows for people to actually do something to mark the various losses in our lives. Grief and loss always create a sense of powerlessness – encouraging people to write down their loss and hang it on the tree was a step towards both acknowledging the loss and then doing something about it." 
Unlike the tree that is up in the Center for Faith and Life, the Memorial Tree is bare. This tree has ribbons as the focal point to represent the loss Luther community members experienced in the past year. 
"Just as grief isolates us, so the simple act or word of kindness reconnects us to caring community," Foss said. "As a recent arrival at Luther College, I can testify to the nature of our campus that strives to create and maintain a caring community. Both the Counseling Center and the office of College Ministries strive to be available to students and others for support – especially in this difficult time."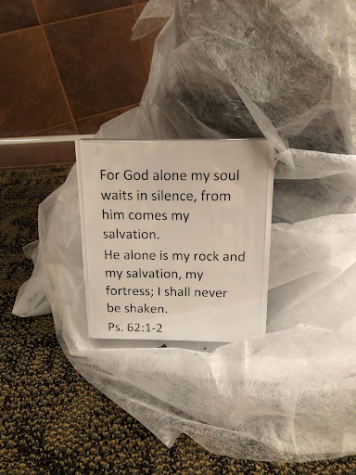 Leave a Comment