Men's Tennis Loses Season Opener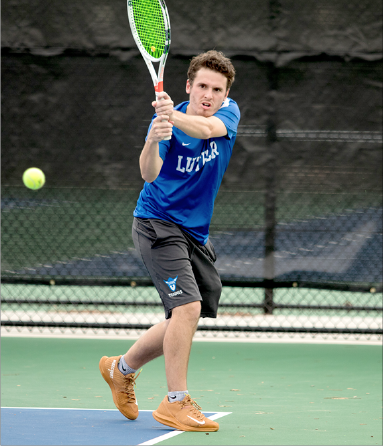 The Luther men's tennis team began their spring season on Sunday, February 14, with a narrow 5-4 defeat to the UW-Whitewater Warhawks. The match was held in Lake Geneva, WI, and was the first official meet for the Norse since March of 2020.
Luther quickly gained a 2-1 lead in the meet, thanks to an 8-4 win from Cole Schneider ('21) and Nyathi Motlojoa ('22) at No. 1 doubles, and an 8-6 win from Sakchham Karki ('21) and Ryan Ortega ('21) at No. 3 doubles. Ortega thought the win was especially impressive considering the duo found themselves in a large deficit early in the match, before winning the last six games of the set.
"[Sakchham and I] got out to a pretty slow start, we were down 5-1," Ortega said. "But we really found our good tennis near the end, and let it carry us to a win."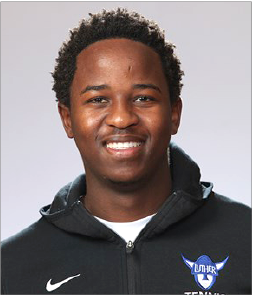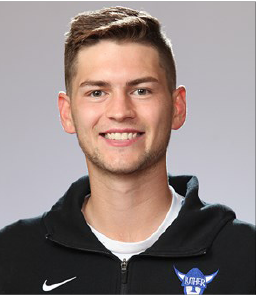 However, after the doubles matches, Luther's momentum was suppressed as they only posted two wins in singles from Schneider and Motlojoa — playing No. 1 and No. 2 singles, respectively. Schneider won in a third set match tiebreak, 6-3, 6-7 (3), [10-5], while Motlojoa won in straight sets, 6-2, 7-6.
"It's been almost a year since we were able to compete, so just that feeling of getting out and competing was a good feeling," Motlojoa said. "I think we used that energy to push us through the match."
Continuous improvement is a major theme of this season for the men's tennis team, and the results are already showing, as this final score was an improvement upon last year's 7-2 loss to the Warhawks.

As the only previous competition for the Norse this season was the American Rivers Conference Tournament back in September and an unofficial match against Iowa Central Community College, Luther men's and women's tennis Head Coach Adam Strand ('04) was happy with the overall meet.
"I thought our first match went really well," Strand said. "Our guys played outstandingly, and [UW-Whitewater] is one of the toughest teams we'll face [this season].
Luther was able to bounce back quickly from the loss, winning 8-1 against St. Scholastica a week later in Lakeville, MN. The next matches for the Norse will be held on March 7 in St. Peter, Minnesota. They will face off against Augustana University at 3:30 p.m., and Gustavus Adolphus College at 6 p.m.
Leave a Comment