Swimming and Diving wins Liberal Arts Championships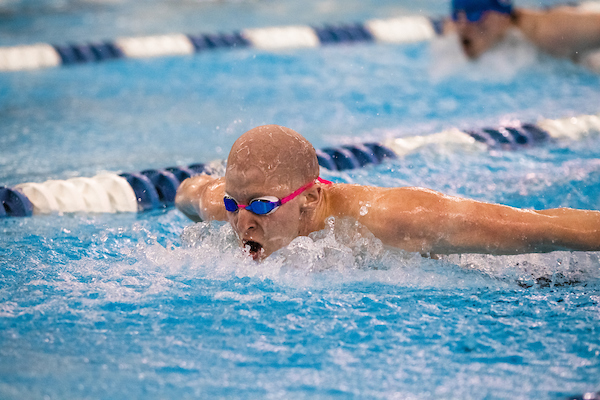 In a season disrupted by the COVID-19 pandemic, the Luther swimming and diving program swam through the distractions and continued to compete at a high level. The three-day Liberal Arts Championships was no different for the Norse, as the men won their eighth championship title while the women won their 14th. Held at two sites (Luther College and Coe College) due to COVID-19 protocol from February 18-20, the men posted a final score of 833 while the women posted a score of 814. For Luther notable individual performances came from Maddie Shea ('24), who totaled three individual titles and Landon Albro ('21), who won two.
Shea and Albro were voted best female swimmer and best male diver of the meet, respectively. Albro defended both of his titles from last year in the 1-meter diving event, scoring 425.70, and the 3-meter diving event, with a score of 378.10. Albro's score in the 1-meter dive would have qualified him for the NCAA DIII National Championships had the event not been cancelled due to COVID-19. Meanwhile, Shea, a newcomer to the program, won the 500 freestyle, the 200 butterfly, and the 1650 freestyle. Shea's time in the 200 fly, 2:15.86, ranked fifth all-time in Luther history.
"I actually never thought I would compete in the 200 fly, because I'm not a fan of sprinting events, but [Luther Swimming and Diving Head Coach Aaron Zander ('10)] thought I would be really good at it," Shea said. "The race was a different experience for me because I prefer to go long and strong when I compete."
A number of other Norse swimmers and divers won individual titles as well. For the men, Kyle Anderson ('21), Soren Gloege Torp ('21) and Matt Benson ('22) each won their first Liberal Arts Championship titles, touching the wall first in the 1650 freestyle, 50 freestyle and 400 individual medley, respectively. For Anderson, a senior, it was an exciting but bittersweet ending to a season with many challenges.
"It hasn't sunk in yet that my collegiate swimming career is over," Anderson said. "I have swam my entire life; I think it will fully set in next year when everyone else is coming back to school and I'm not."
For the women, two relay teams won championship gold. The team of Margaret Petellin ('24), Linnea Lee-Brown ('21), Shakira Herrera ('22) and Britt Huss ('23) won the 200 medley relay in a time of 1:53.32. Additionally, Petellin, Lee-Brown and Herrera were joined by Anna Thomley ('22) to win the 400 medley relay with a time of 4:11.10. In individual events, Maddie Putnam ('23) won the 1-meter diving event with 288.45 points, while Lee-Brown won the 50 freestyle and 100 breaststroke events. Lee-Brown, who placed fourth all-time on Luther's list for the 100 breaststroke with her time of 1:07.04, hit personal best times in the preliminary and final rounds despite never swimming the event before the 2020-21 season.
"It was fun being able to change up what I swam this year because it gave me the opportunity to try new events and score points for the team," Lee-Brown said. "Throughout the meet I really felt like I was cruising."
Some of the challenges faced by the swimming and diving teams this year included having athletes in quarantine due to COVID-19 outbreaks, as well as splitting the teams into different practice groups and limiting the number of people in a lane. Despite these challenges, Coach Zander was impressed with how the teams handled themselves and thought it was a fantastic meet and a great season overall.
"There were a ton of athletes who scored points for us [during the championship meet] that had COVID earlier this year and overcame it, or missed a quarter of our season just sitting in quarantine," Zander said. "I've told the team this out loud: I could not imagine the challenges they've had to face this year, and they've surmounted them, by far."
According to Zander, Luther's wins at the Liberal Arts Championships are especially impressive when considering where the team placed in previous years. Two years ago, the women placed eighth and the men fifth; now both teams are champions.
"We've made really big jumps as a team, and it shows as a whole," Zander said. "Being able to see the seniors on the deck joyously crying about how they finished their season and their collegiate careers was awe-inspiring as a coach."
Leave a Comment