Rachel Bartleman ('21) performs senior recital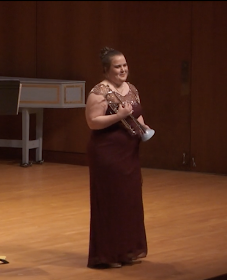 On Saturday, March 6th, Rachel Bartleman ('21) gave her senior trumpet recital to family and friends in the Weston H. Noble Recital Hall. Though there was limited seating made available, the performance was also live-streamed so a larger, virtual audience could tune in. 
Bartleman played pieces on a variety of horns including piccolo trumpet, flugelhorn, and the classic trumpet. She performed Alexander Arutunian's "Concerto for Trumpet and Piano," George Frederic Handel's "Suite in D Major for Trumpet," Otto Ketting's "Intrada," Herbert L. Clarke's "Maid of the Mist," and the first movement of Joseph Turring's "Two Portraits." Though her family was in the recital hall to support her, the room was much more sparse than Bartleman was used to. 
"We're so used to full audiences, the energy just isn't quite the same," Bartleman said. "But it is more relaxed. It feels almost like an extra rehearsal, [you] just go up and play." 
With all the things COVID-19 has taken from music, like packed recital halls, Bartleman has also seen some positives. For her, the pandemic has given her even more appreciation for music and performing.
"This pandemic has given me time to reflect as a player and more time just to play for me," Bartleman said. "It's a celebration. Because we don't get to make a lot of live music lately, any chance we get is another reason to celebrate, listen, and enjoy the time we have." 
Bartleman wanted this senior recital to be just that, a celebration. Associate Professor of Music John Cord explained that giving an optional recital is an indication of Bartleman's drive and passion for music. 
"Rachel plays with a lot of maturity, which is really a hallmark of an advanced student," Cord said. "A senior recital is the culmination of these four years' work. They're optional, and she's taken advantage of the opportunity, which has garnished a lot of respect. I'm extremely proud of her as her teacher, and excited for her recital and her career." 
After her time at Luther, Bartleman plans to take the next step in her career as a performer and attend grad school. She will pursue a master's program in trumpet performance and pedagogy, with a plan to teach trumpet at a collegiate level. After thirteen and a half years of playing trumpet, Bartleman feels the instrument is a part of who she is, and is grateful for her family's support of her pursuit of music as a career. 
"I started playing because my older brother played, and I wanted to be just like him," Bartleman said. "I'm so grateful for all my family's support and my two older brothers who are so proud of their musical little sister. Without them, I wouldn't be who I am today. You've got to have the right kind of people around to pull something like this off."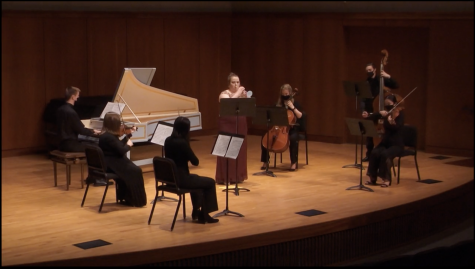 Just as Bartleman's brothers served as her musical role models, Cord watched Bartleman become an important role model in the Luther trumpet studio during her time studying with him. 
"Rachel has definitely assumed a leadership role in our studio," Cord said. "She has always taken first trumpet parts, and with her career aspirations and grad school possibilities she's worked very hard. It's admirable, and we all see how much effort she puts in." 
The virtual format that music performances have had to adapt to has changed the way performers connect with their audience. For Bartleman, she hopes this virtual recital will serve as inspiration for the future trumpeters she has been able to teach, who she hopes can learn from her perseverance. 
"I have a lot of younger people watching who I've been giving lessons to virtually," Bartleman said. "I want to be a role model, and show these kids that you can do anything, no matter how difficult or impossible it may seem."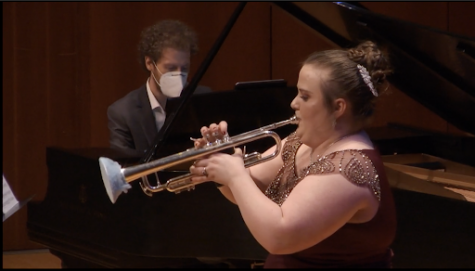 Leave a Comment