KWLC hosts first virtual concert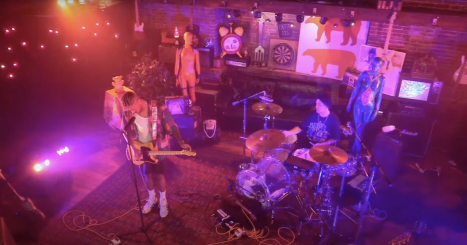 Almost a year since a national health emergency was declared and musical tours around the country screeched to a halt, Luther's KWLC radio station held their first performance in their virtual concert series. The show was streamed on the official KWLC YouTube at 7 p.m. on Saturday, March 13. It featured Burris, a roots-rock group from Louisiana, and Neon Dreams, an alt-pop/rock duo from Halifax, Canada. Both artists played an exclusive set followed by a Q&A session with KWLC staff.
KWLC is no stranger to organizing live music events, like the yearly block party in the fall and "Rock the Commons" in the spring, but this is their first venture onto the digital stage. Station manager Jenna Gengler ('22) took it upon herself to make that first step.
"I really miss concerts, and I've gotten the chance to see some bigger artists perform virtually this year," Gengler said. "I figured it would be a really cool way to bring music to Luther and start something new for KWLC that we haven't done in the past."
Station Manager David Grouws said the idea for intimate, Luther-exclusive performances for KWLC was already being passed around before the pandemic caused plans to come to a halt. That didn't stop the station staff, Gengler and KWLC Program Director Burke Wallace ('22), from adapting those ideas for a socially-distanced world.
"We started dreaming of something like this last year," Grouws said. "We wanted to have live in-studio guests record in our studio like an NPR Tiny Desk concert. Then COVID hit. The current staff thought of the idea of transforming that idea of live studio guests into, well, maybe we can do it virtually."
The new online format has also helped do away with the challenge of distance, allowing KWLC to book acts that are not based in the Midwest. Additionally, more accessible virtual formats have allowed lesser-known artists to gain traction.
"[Burris] is in Louisiana, and [Neon Dreams] is in Canada, so they're not really artists we'd have been able to get if we'd done anything live," Gengler said. "But also it's been a way to give artists a chance to grow their platforms and give people the chance to listen to music again."
As a former music director at KWLC, Gengler used her past connections with labels and promoters to reach out to Burris and Neon Dreams. One of KWLC's current music directors, Kinsey Greenlee ('22), brought Neon Dreams to Gengler's attention.
"I listened to their EP in October and I absolutely fell in love with it; I actually ended up charting them three weeks in a row," Greenlee said. "They contacted me to say thank you, and I said '[Gengler], I've got some people for you.'"
In the KWLC interview, Neon Dreams members Frank Kadillac and Adrian Morris talked with Gengler about their history as a band and their sound. Influenced by Coldplay, Blink-182, Linkin Park, and The Fray, they compared each of their releases to a musical journey that takes them through an era of their lives. Neon Dreams not only sees their work as a creative outlet, but an emotional one.
"A lot of people say we don't stick to a genre," Kadillac said. "You hear what we were going through at the time. Our main goal is trying to help people get through the day. That's how we know we're on track. It's like therapy for us as well; it's a two-way street."
Also performing on March 14 was roots-rock group Burris, performing as a quartet out of New Orleans. Burris has been described as "a gumbo of music," with a rotating lineup that brings in influences from all over the world. The band formed in the school of music at Louisiana State University. It was there that frontman Christopher Burris Hochkeppel made the connections that make such a diverse group possible.
"We're constantly inspired by the classical and jazz music we've studied," Burris said. "I'm really glad we all met in that educational environment. We've had a member from Russia, some guys from Austin, one from Pennsylvania; it's this mixing of cultures. It comes together and makes a gumbo."
Even in that "gumbo," groups like Blood, Sweat & Tears, Chicago, Parliament, Wilco, and the Beatles stand out as centering forces in Burris's songwriting. Eagle-eyed viewers could also spot a Dave Matthews poster behind the band on-stream, an influence with a strong Luther connection.
Even though streaming services dominate the musical landscape, Burris still sees the importance of local radio and its importance in a community like Luther.
"I know when I was at LSU, I'd listen to the radio," Burris said. "To have someone around your age, with similar likes and dislikes, telling you what to listen to––in a way––is nice. College radio does that. It fosters a tight knit community."
This event is far from the only thing KWLC has prepared for the Luther community. As the radio station is marketing these events as a series, there will be plenty more virtual performances on the way.
In addition to all their virtual content, KWLC still hasn't given up the prospect of safe live music. They're currently in talks with the administration to see if their annual block party can go ahead while observing COVID guidelines. Grouws shed some light on how talks were going with the COVID Response Team and whether or not it could happen.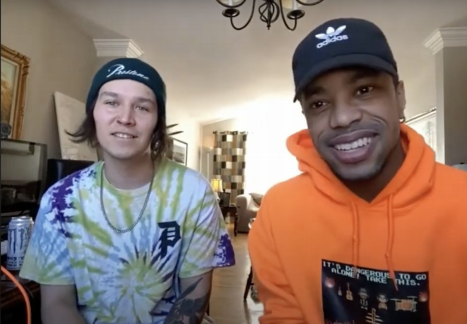 "This year we have a tentative date of April 24, but we're still waiting to see if the COVID Response Team approves our plan for making the concert safe," Grouws said. "We've prepared a document describing our safety protocols, we're going to send that to the CRT this week and hopefully, they'll approve that date. Our hope is to get that going and have a bring-your-picnic-blanket socially distanced kind of thing going on."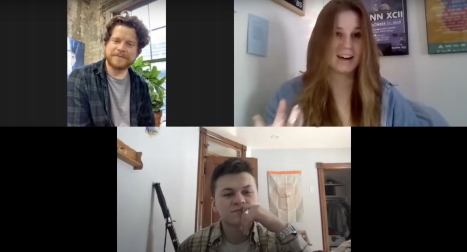 In the meantime, KWLC wants to keep providing opportunities for music fans to discover new artists and find ways to express themselves and their musical interests.
"I would love for listeners to find a new artist that they like," Gengler said. "I want people to experience music again, because we haven't been able to do it in a more traditional format."
If you'd like to sign up for more information regarding KWLC's Virtual Concert Series, KWLC has a Google Form you can fill out here.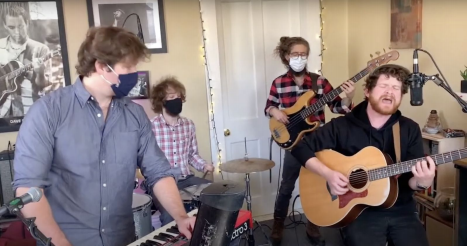 Leave a Comment