Luther College Conecrt Band performs concert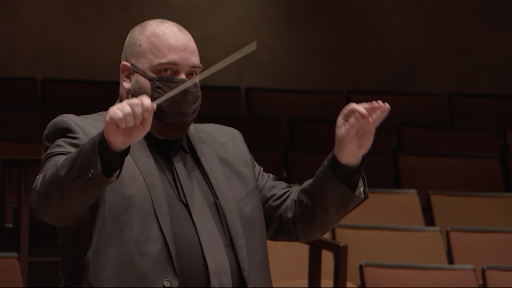 On Sunday, March 21 at 4 p.m., the Luther College Concert Band presented a virtual concert in the Center for Faith and Life, with limited in-person seating available. Directed by Visiting Assistant Professor of Music Cory Near, the ensemble presented a three-piece concert titled "In Remembrance, With Love."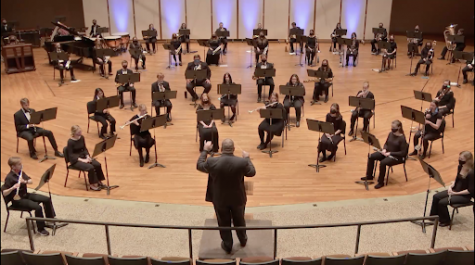 To begin the concert, the band presented a recorded version of "American Guernica" by Adolphus Hailstork. Band member Rachel Clennon ('22) discussed the reasoning behind selecting this piece as her favorite.
"I love this piece because of the use of dynamics and dynamic contrast, and also because of how it evokes deep emotions," Clennon said. "All of the emotions and thoughts that arise during this piece, as well as the conversations Concert Band has had regarding racism and anti-racism, have made me more passionate about standing up to and speaking out about racial injustice and inequality."
Next, the band presented "O Magnum Mysterium" by Morten Lauridsen, translated by H. Robert Renyolds. It is a slower, lilting piece reminiscent of Latin masses.
To end the performance, the Concert Band presented "Come Sunday" by Omar Thomas which consisted of two movements titled "Testimony" and "Shout!." When asked about the concert and the effects that the pandemic has placed on rehearsals, Clennon said that COVID-19 has made it both harder and easier to prepare for concerts.
"Because of the precautions that we have to take, such as shortened rehearsal times––which causes us to get less done during a rehearsal than we used to––and because of the six feet spacing, it is harder to hear the rest of the ensemble," Clennon said. "We are able to record some of the music before the concert, and those videos are added to the live-stream later, so we end up not playing all of our pieces on the actual concert day."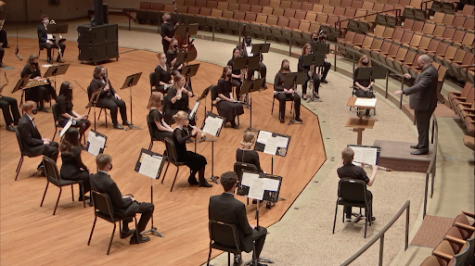 Fellow band member Kaleb Krzyszton ('22) agreed with this sentiment, adding that the challenges the concert band has faced this year have only encouraged members even more. The shorter time to prepare for concerts has motivated band members to work harder to learn the music.
"We have less time with which to prepare for concerts, and furthermore have unique challenges within rehearsals to maintain COVID protocols," Krzyszton said. "However, this also encourages us to develop our musicianship to be able to not just survive, but thrive in this new setting."
Many of the members of the band expressed mixed emotions about the way that COVID-19 has changed the band, but one thing remains consistent––everyone is happy to be performing.
"It's incredibly fulfilling to be able to share our work and our art with others, especially when they serve as catalysts for important conversations," Krzyszton said. "This performance also feels particularly special, as it is a year––almost to the day––following our tour that was canceled due to the emerging pandemic last year. With the added perspective of those lost performances, I really appreciate the opportunity to perform."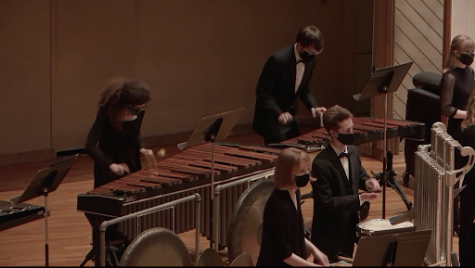 Riley Frank ('22) agreed with his fellow band member. He explained that the pieces by Omar Thomas helped the band learn lessons about being actively anti-racist.
"[Omar Thomas' 'Come Sunday] is fast-paced, exciting, jazzy, and fun to play, and is an amazing example of Black joy," Frank said. "One of the big focuses of the ensemble this year has been anti-racism, and the process of being actively anti-racist as an ensemble. We've had multiple ensemble sessions about underrepresented composers, implicit bias, and white privilege."
Throughout the 2020-2021 school year, Luther's concert band has risen to many multifaceted challenges. By practicing social distancing and safety protocols, anti-racist policies and principles, and adapting to a virtual or hybrid learning experience, students have still been able to use music to foster community.
Leave a Comment