Intersectional Feminist Club hosts event to share women's experiences
On Saturday, March 27, the Intersectional Feminist Club (IFC) hosted the "Everything in Between" monologues to highlight women's experiences at Luther. Topics included the discussion of race, sexual identity, body image, disordered eating, and sexual assault. Each monologue was written by a Luther College community member, with some students performing their own monologue, while other actors performed pieces that had been submitted to the group. The proceeds from ticket, sticker, and zine sales go to Udeshya, an organization in Nepal that supports young girls gaining exposure and experience in STEM fields. 
The IFC was created last year, and recently received recognition as an official club at Luther. The group organized the event to replace Eve Ensler's "Vagina Monologues," in an effort to recognize a more intersectional feminism. 
Salomé Valdivieso Santillán ('23) is the president of the IFC, and played a large role in planning and co-directing the event with Ursula Damtse ('22).
"A lot of the conversations that we have, particularly at Luther, are white feminist centered," Valdivieso said. "That's not bad, because we want people to be able to think about feminism, but we want to go a step further. It is not enough to think about feminism when within the feminist movement, there are still women who are being oppressed: Black women, women of color, indigenous women, trans women. All of these identities come to the surface when we talk about intersectionality, and sometimes white feminism tends to shadow those experiences."
In addition to highlighting intersectionality, the group also wanted to highlight the experiences of Luther students. They shared a variety of stories, some that were particularly uplifting and some that were not. As all the monologues were written by students, the organizers hoped they would be more relatable to the college community. 
"[There were] a lot of heartwarming experiences, but also a lot of shaking experiences," Valdivieso said. "A lot of people don't realize the issues many students go through, so I think they will be able to see that with a lot of these monologues."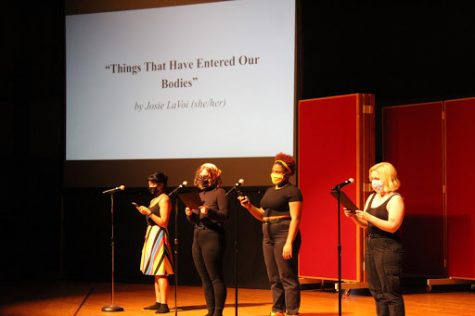 Megan Stevenson ('22) is the public relations liaison for the IFC, and is in charge of creating posters and managing the club's Instagram account. She created all of the artwork for the event, including posters, stickers, and zines. She explained how this year's zines differ from last year's Vagina Monologues.
"Last year, when we did the Vagina Monologues, we got the ball rolling for our first zine, so I did a lot of shape art that was whimsical and fun," Stevenson said. "For this zine, a lot of the art that we are showing, and what is on the posters, is [about] actual people. We are trying to show different identities through line art."
Art as a medium is an outlet for creatives to express personal and shared experiences to a broader audience. Lydia Wilkie ('23) watched the in-person show, and talked about the importance of story-telling and how hearing others made them want to share their own stories.
"I think it made me more willing to talk about my story, and if they do this again next year, to write something and perform it," Wilkie said. "When they sent out the opportunity to write, I thought it was really cool, but I didn't submit anything because I was scared. Seeing them get up there and do that was really moving, and I feel like I can do that too."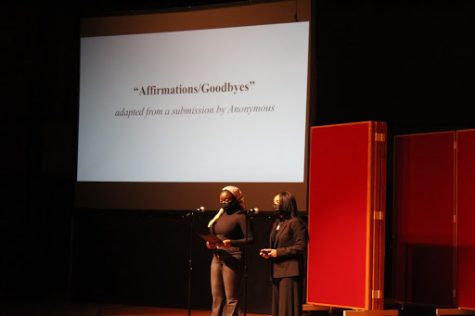 Leave a Comment