Luther College Symphony Orchestra performs in-person concert
On Sunday, March 28, the main hall of the Center for Faith and Life was filled with welcome noise, as the Luther College Symphony Orchestra performed in front of a live audience for the first time in over a year. The number of audience members was limited to accommodate COVID-19 protocols. For those who did not attend physically, the event was live-streamed.
The concert opened with the overture to Carl Maria von Weber's "Der Freischütz." This piece introduces key themes present in the larger work. Beginning with a foreboding passage, Weber's overture guided the audience through a diverse musical landscape, as principal chair of the second violin section Ben Gunsch ('21) explains.  
"The overture sets the stage for a story filled with fantastical elements [like] magic bullets, deals with the devil, et cetera," Gunsch said. "Weber's compositional language is very imaginative. Although the composer was a contemporary of Beethoven, his music offers stunning insight into a later romantic [period] aesthetic."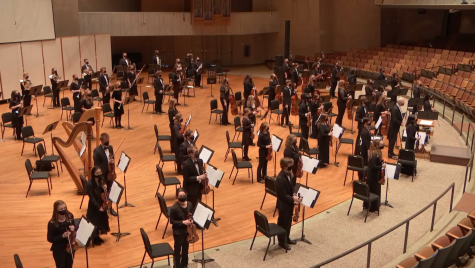 The symphony also performed Tchaikovsky's "Romeo and Juliet-Fantasy after Shakespeare." Joined by the harmonious accompaniment of woodwind and brass, the strings delivered Tchaikovsky's famous love theme inspired by the romance between the two star-crossed lovers. The performance also provided welcome exposure to other parts of the work that may be less familiar. As its final cadence rang through the concert hall, Tchaikovsky's overture concluded the concert with all sections of the symphony playing in unison. 
As a member of the ensemble, principal flautist Kari Jacobson ('21) described her take on "Romeo and Juliet." After providing a summary of the composition's structure, she explained how the Symphony Orchestra's conductor, Professor of Music Daniel Baldwin, conceptualized different passages.
"It opens with a statement from Friar Lawrence," Jacobson said. "If you think of it as a symphonic poem, it basically starts by telling the tale. Then there's a love theme and some fight scenes, you can tell. Dr. Baldwin often speaks about needing to bring out the passion of the fight scenes while singing the love theme."
Principal violist Shana Liu ('21) described some of the unique challenges facing the ensemble due to the pandemic. She also drew attention to the difficulty of the pieces the symphony performed and praised members of the ensemble for their musicianship and commitment. 
"Both pieces, especially the Tchaikovsky, are quite a challenge," Liu said. "This year more than most, individual players really have to step up. Honestly, I think the symphony is full of really good musicians, and everyone is a hard worker."
Gunsch also saw some logistical challenges with the modified rehearsal schedule and physical distance between performers. However, he believes that the obstacles facing musicians today will strengthen individual musicianship. 
"It is a challenge. We're all six-feet apart, and when we're with wind and brass, we're only allowed thirty minutes for rehearsal," Gunsch said. "It requires a very sensitive ear. I imagine that when COVID is over, and we're closer together, we'll be better musicians because of it."
Leave a Comment