A weekend of choral music: Luther College choral ensembles perform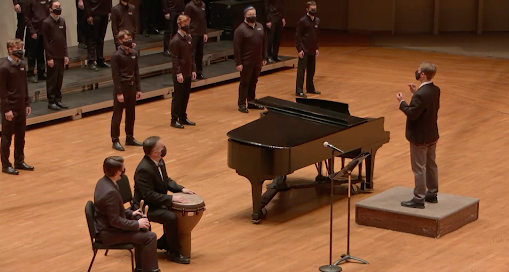 On the weekend of April 9-11, Luther College's choirs gathered in the Center for Faith and Life to perform for limited in-person audiences. Beginning with Aurora and Norskkor on Friday, followed by the Cathedral Choir and Collegiate Chorale on Saturday and Nordic Choir on Sunday, the Luther campus was filled with music and singing all weekend. 
On Friday, Aurora and Norskkor took to the Center for Faith and Life stage at 7:00 pm and 8:30 p.m. respectively. Aurora's concert, "Rise Up!" began with several pre-recorded performances, including "Dona Nobis Pacem" by Bob Chilcott and "Kyrie and Sanctus" from Messe Basse by Gabriel Faurè. Beginning the live performance portion of the concert was Xabier Sarasola's "Jubilate Deo," followed by the program's title "Rise Up" by Jake Runestad, and concluding with the opening chorus from "The Bartered Bride" by Bedrich Smetana.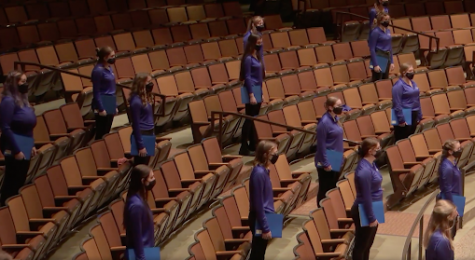 Later, Norskkor presented "The King of Love My Shepherd Is" arranged by Mack Wilberg, Franz Schubert's "Der Gondelfahrer," and "Here's a Pretty Little Baby" arranged by André Thomas. Two music education majors, David Gorman ('21) and Justin Knautz ('21), conducted the choir in two of the program's pieces.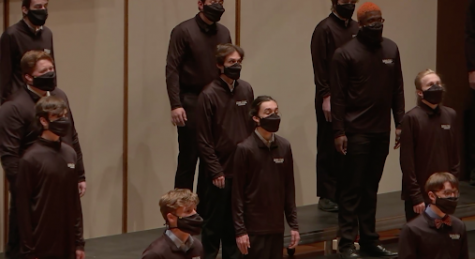 Norskkor and Aurora are both primarily composed of first year students, and for most of the students in the ensembles, this concert was their first in over a year with an in-person audience. For students like Eric Shaffer ('24), choir has been an integral part in feeling a sense of belonging to the community.
"After all the big events I had been told to look forward to for all my life were cancelled, and we were told to remain in our houses as much as possible, I felt very isolated and alone," Shaffer said. "Transitioning to Luther got rid of those feelings instantly. Whether it be playing soccer again or singing in Norskkor, these experiences have been rejuvenating."
On Saturday evening, Cathedral and Collegiate held their concerts at 4:00 pm and 7:30 pm, respectively. Cathedral Choir's repertoire included "At the Round Earth's Imagined Corners" by Williametta Spencer, "We Shall Walk Through the Valley" arranged by Undine Smith Moore, and "Non Nobis Domine" by Rosephayne Powell.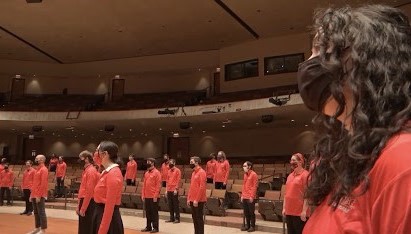 The performed pieces were intentionally selected. When asked about his motivations behind the chosen pieces for Cathedral, Professor of Music Mark Potvin ('01) mentions the need to connect performances to people's experiences over the last year.
"Cathedral Choir's [repertoire] list deliberately showcases and honors composers, lyricists, arrangers, and traditions from underrepresented and marginalized populations," Potvin said. "The second half of [Cathedral's] program, the live portion, weaves together several disparate pieces. The resulting story acknowledges the anger, despair, and grief many have experienced in the past year, before culminating with audacious statements of hope for what might yet come to be."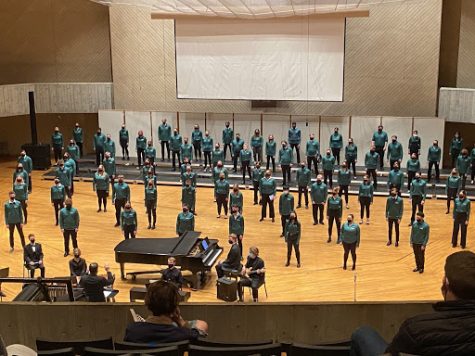 Following Cathedral, Collegiate Chorale presented a concert, titled "The Road Home," which was filled with references to traveling, encompassing songs such as "Hope" by Ysaye M. Barnwell, "Untraveled Worlds" by Paul Halley, and "The Road Home" by Stephen Paulus, which also featured soloist Mikaela Hanrahan ('21). Emily Ellsworth, director of Aurora and Collegiate choir, talked about her thinking behind titling "The Road Home," and the process of selecting the pieces for her group's concerts. 
"I kept the theme for each group's spring program, but selected mostly things from the choral library that would set the scene for success while still incorporating variety and beautiful texts to explore," Ellsworth said.
Finally, on Sunday, Nordic Choir wrapped up a weekend of choral performances with their concert. Directed by Professor of Music Andrew Last, Nordic Choir presented a wide array of songs, beginning with "Ev'ry Time I Feel the Spirit" arranged by Moses Hogan, and ending with "O Lord God" by Pavel Tscensnokoff. 
As Potvin explains, though the COVID-19 precautions have limited the ability for ensembles to physically come together, the performances allowed students to share music with one another.
"We'll have to adhere to a variety of COVID mitigation protocols––masking, spacing, short program––but we'll also get to sing for an audience!" Potvin said. "To say that the singers and I are excited would be an understatement. We're used to singing shoulder to shoulder, and the acoustic properties change when we spread out. This leaves us feeling 'alone together' rather than rooted in the ensemble as a whole. I continue to be amazed by their tenacity, artistry, scholarship, and vulnerability. This has been a year to remember for all the right reasons."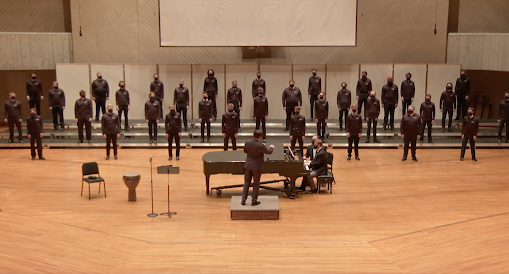 Leave a Comment