Luther One Act Festival premiers its first virtual performance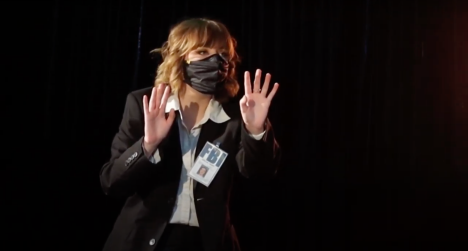 Even in the face of a global pandemic, the show must go on. On April 10 and 11, the Luther College Visual and Performing Arts Department (VPA) premiered Luther's first-ever virtual one acts festival. The festival featured a collection of short plays written by Bruce Kane, Greg Kotis, and Alan Ball, which all center around the building and breaking of relationships. The acts were directed, edited, and performed by students. 
"Bedfellows" began the show, a story of a strained marriage and a not-so-secretive affair getting flipped on its head. "Your Mother's Butt" showcased a dire visit to the psychiatrist and a patient's crisis of identity amidst their obsession with clothes. Another one act,"Ring Tone," told the tale of a meeting between an out-of-work writer and a struggling actress in a row with her husband, and the "what-ifs" of misconstrued "meet-cutes" and true love. 
Finally, "An Examination of the Actor/Author Relationship Presented as Some Kind of Cop Show Parody" concluded the show. A meta, fourth-wall-breaking script reading between a playwright and two actors, the thespians take a "good-cop-bad-cop" approach to get to the bottom of comedy and theater at large.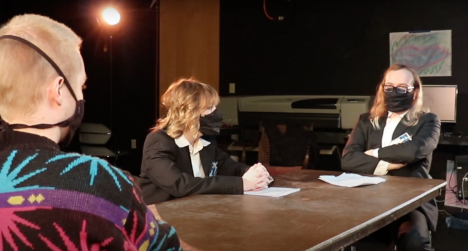 The one act festival is an annual event at Luther, but for the first time, these short scenes weren't performed live for an audience in Jewel Theater. Instead, the student directors and stage managers adapted their scenes to take place in front of the camera. Professor of Theatre Jeff Dintaman detailed the process of taking the one act from stage to screen.
"The process is obviously different," Dintaman said. "But with most of the things, we've used a similar process as if we were to do it live, taking it and translating it to film. We're trained as theater artists, not as film artists, so it comes naturally." 
It was only a matter of taking what in most years would be designed for the eye of the audience and making it appealing for the lens of a camera. Sets, costume choices, and lighting were all designed with the camera in mind. As Dintaman explains, students had to think about the camera rather than the human eye while constructing their performances. 
"One thing [the online format] is doing for our students is allowing them to think about how film works," Dintaman said. "From a performance side, directing side, design side, which we usually don't get when we're doing it live. That whole learning process is offering something that students would never have gotten had we not been forced to move to a digital format." 
The virtual format not only allowed students to think about how film works, it also enabled the actors and directors to get the performance they wanted. Phil Royer ('22), director of the scene "Ring Tone," saw the advantages of the format, especially when it comes to the editing process. 
"An advantage is that you can redo it," Royer said. "The audience doesn't know, 'did I film it in one take, or seventeen takes?' You'll never know! That's the beauty of editing." 
Recorded performances also generate less anxiety than live performances. Stage manager Ashley Schultz ('22) was grateful for the low-stakes environment provided by filming in the midst of such a hectic year.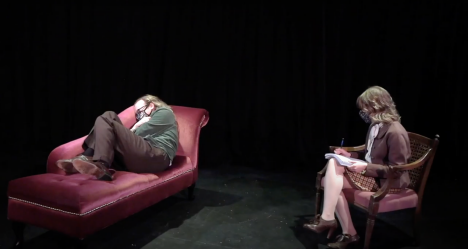 "It's just been such a busy year, and I think the recording thing took a lot of pressure off the actors as well," Schultz said. "It was also kind of nice to have rehearsal from my room!" 
Joshua Hartl ('23) appeared in both "Bedfellows" as unfaithful husband Dave, and in "Ring Tone" as writer Len. He echoed those feelings of recorded performances taking pressure off performers, adding that it actually helped him to memorize his lines.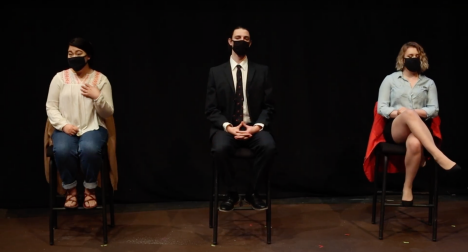 "You don't feel pressure at all, you're really calm, and it's a lot easier to remember your lines when you're not under pressure," Hartl said. "But also, if you forget your lines, the worst is you start over. It's a stress-free environment." 
While this foray into film has been a valuable and enriching learning experience for all involved, the weight that a live audience brings is sorely missed by all. As Dintaman explains, the rewarding real-time reactions and the community built around a performance is something everyone appreciates, from professors to directors to actors. 
"I do know that I'm glad I went into theater and not film," Dintaman said. "I like the live aspect and the rush that you get from 'will this work?' Being able to have an audience sit down and laugh, or cry, or sigh, and have the actors respond to that, that's a piece of it that's really missing." 
For performers like Royer, the reward of response is either delayed or not at all present when presenting art online. Zoom calls will always lag, and YouTube comments will always be seen after the fact. According to Royer, artists are in it for the instant rush, and there's no rush like that of thundering applause. 
"I mean c'mon, [I miss] the applause, and the laughter and just having an audience," Royer said. "I don't know about most actors, but when I walk on stage and I see an audience, my energy goes through the roof. You're wanting to see something spectacular, so I'm going to give it to you."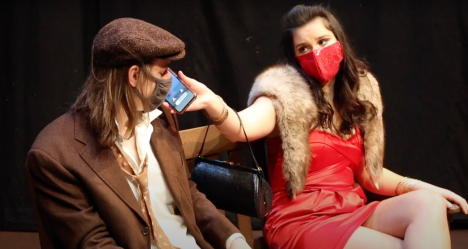 As like most of his peers, Hartl looks forward with anticipation to the return of live audiences, and the inter-player bond that is crucial to all involved in theatre.
"I'm most excited for the community aspect and the impact that theater has in people's lives," Hartl said. "Working on a production with other people, you get to know them really well, it's something you don't forget. And you'll remember the smiles and laughs you put on people's faces." 
As the world continues its steady course back to pre-pandemic normalcy, artists will continue to adapt and find ways to get people laughing, clapping, sighing, or crying––even if they don't get to see their virtual audience's responses.
Leave a Comment