Luther college seniors Belle Searcy ('21) and Mikaela Hanrahan ('21) perform Brudos and Hemp Prize recitals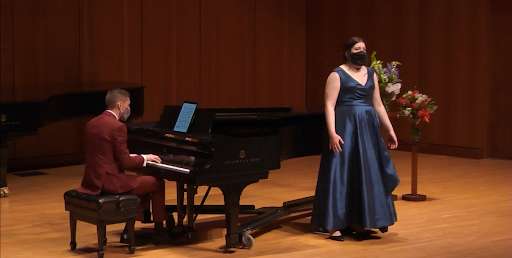 On Saturday, April 17, Belle Searcy ('21) and Mikaela Hanrahan ('21) gave their prize recitals in the Nobel Recital Hall at 11:00 a.m. and 6:00 p.m. respectively. Searcy was awarded the Richard C. and Joann M. Hemp Family Prize for Orchestra Performance, and Hanrahan was awarded the Alan R. and Sally J. Brudos Prize for Opera Performance. 
Beginning the prize concerts, Searcy took to the Nobel Recital Hall stage with her violin to present her three-piece concert. Nathan Eck ('22) accompanied Searcy on the piano for select portions of her recital. 
Searcy, a student of Assistant Professor of Music Igor Kalnin, began her performance with Johann Sebastian Bach's "Sonata for Solo Violin, No. 1 in G minor BWV 1001." The four-movement piece included "Adagio," "Fuga," "Siciliana," and "Presto," each increasing in tempo, agility and tenacity. 
For her second piece, Searcy presented "Caprice in E-Flat Major, Op.1, No.14," by Niccolò Paganini, a shorter, upbeat, yet nuanced number. Searcy again demonstrated her ability to present beautiful melodies that flow with tension and depth.  
Searcy finished her recital with "Violin Concerto in E minor, Op. 64" by Felix Mendelssohn Bartholdy, an intricate piece consisting of three movements. The first movement, "Allegro molto appassionato," which means fast and very passionate, was indeed so. Searcy ended with a flourish in a performance that displayed her love and dedication for her instrument and craft. 
As she played, Searcy portrayed the gentleness of the slower melodies while also being steadfast and agile in the faster-paced, ruthless movements. Kalnin notes how Searcy's innate connection with the emotions of music, combined with her determination and hardwork, transformed her into a completely different violinist than the one she came to Luther as. 
"She always had this emotional connection with music," Kalnin said. "Some things just come naturally to her. It's a lot of hard work, but also it's talent. That's why this process [of preparing for the recital] was enjoyable. She was able to grasp ideas really quickly, and adjust and adapt."
Later in the evening, Hanrahan presented her Brudos Prize recital concert, accompanied by Assistant Professor of Music in Collaborative Piano and Vocal Coaching Nicholas Shaneyfelt. Hanrahan performed "Blute nur, du liebes Herz" from "St. Matthaus Passion" by Johann Sebastian Bach, and "Cigánské melodie Op. 55" by Antonín Dvořák, a movement consisting of seven Czech songs composed in the style of traditional Romani folk songs. The songs and the cycle as a whole are characterized by nostalgia and the dynamic between the singer and the piano. When asked about favorite songs from her set, Hanrahan named this set as one of her favorites.
"The characters in these pieces experience love as passion, pain, mystery, and frustration," Hanrahan said. "These are all very exciting things to play with in the various songs."
For her third piece, Hanrahan sang "Come in quest'ora Bruna" from "Simon Boccanegra" by Giuseppe Verdi. Then, following a brief intermission, Hanrahan jumped right back into the recital as she performed a three-song set titled "2 Canzonette Italiane, Alla Cetra," by Mikhail Ivanovich Glinka. 
To end her recital, Hanrahan sang "Steal me, sweet thief" from "The Old Maid and the Thief" by Gian Carlo Menotti, which allowed Hanrahan to display her theatrical abilities and her musicianship.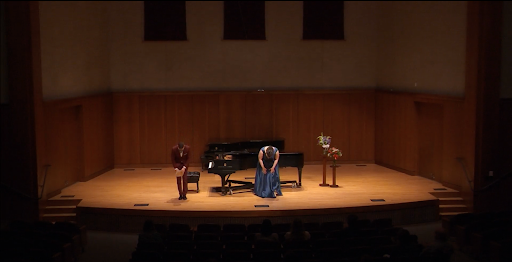 "I enjoy how my character goes from being frustrated and complaining about Bob in the recitative to professing her love for him and begging him to take her away in the aria," Hanrahan said. 
These recitals reflect many years of dedication and commitment to honing one's craft. Kalnin reflects on Searcy's development as a violinist, explaining how tenacious Searcy was in her violin career at Luther. He points to how she achieved her goal of becoming principal second as a first-year in the Luther College symphony orchestra––achieving her goals through putting in the hard work. 
"I remember she was frustrated about her progress, and we had a conversation," Kalnin said. "We had a pretty emotional conversation, and I just explained that you need to do your best. You cannot expect from yourself that everything will go perfectly, but you still have to go and do your best, and she took it to her heart. She played her audition, and she definitely exceeded the expectations [she had of herself]. It was a performance which I think was much better than she expected, and it impressed the judges. She won the principal second her first year."
Both the Brudos and Hemp prizes are awarded to select musicians after an auditioning process. The prizes recognize the talent and dedication of their recipients. Both Hanrahan and Searcy join a legacy of recipients who all share the same passion for their respective craft.
Leave a Comment