New Men's Club Volleyball Team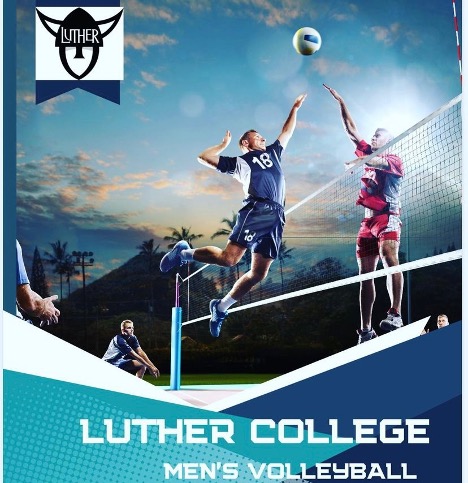 There's a new club on campus that made its debut at the spring activities fair—a men's club volleyball team. Until now, Luther College has only had a female volleyball team. The only way for men to play volleyball was through intramural games. This is why team captain Drew Jaeger ('24) and head coach Arturo Diaz worked together to help this club come together. 
Jaeger has been participating in intramurals here at Luther, but he always wished there was an actual team for men to play volleyball. 
"I played volleyball in high school and I really enjoyed it," Jaeger said. "When I got here, there were intramurals, and I really loved playing. I met a few other guys who really liked to play volleyball, and then this year, when Arturo Diaz joined the women's volleyball staff, he expressed interest in wanting to start a men's team. So he and I worked together to actually make a club team for guys." 
With Jaeger's passion for volleyball and Diaz's support, Luther was presented with the perfect opportunity to allow men to play volleyball in a more competitive form. There are some key differences to be made between intramurals and the club volleyball team. The first is that it will not be a coed team. They will also play an organized game where the coach will focus on skill level, rotations and positions. Lastly, they will have an organized practice schedule. 
However, Jaeger explained that although you have to be committed to the team, it is not likely to be an overwhelming commitment. Since it is still a club team, the schedule is more flexible and they are committed to working around members' schedules to accommodate as many people as they can.
Joining this club is more than just practicing volleyball for the next game or tournament, and both Diaz and Jaeger agree that what is learned on the court extends to life off the court.
"Members of the club learn many more valuable skills than volleyball alone," Diaz said. "Such skills attained include great teamwork, communication, and dedication. These skills not only allow success on the court, but also in the real world." 
Jaeger and Diaz worked hard to get their idea to the Student Senate where it got accepted after being put to a vote. They have a lot of details to finalize, but they are already planning their season for the rest of this year and for their 2023-2024 season. 
"With this club, we plan to play as a recognized team within the National Collegiate Volleyball Federation where collegiate club teams from around the nation are members," Diaz said. "The team will be a part of the Wisconsin Volleyball Conference for the 2023-2024 season, playing against elite club teams in the Midwest. This spring will be a shortened season with practices and 1 or 2 scrimmages and tournament dates." 
Excitement for the team extends beyond just the members and coaching staff. Mariah Hueneke ('26) expressed excitement at the possibility of getting to watch and cheer for the Norse's new team. 
"I think this will be a fun team to watch," Hueneke said. "I've never seen men's volleyball before."
This club team is still new, but they are working to get the season going and plan ahead for next year. Both Jaeger and Diaz are passionate about having a men's volleyball team, and they are both excited to get this season going. 
"I'm just really excited to get going," Jaeger said. "I'm excited to partially coach the guys, and I am excited to get playing at a high level again, because I miss it. I'm just really excited for us to get going."
Leave a Comment