To summarize how the fall season went for Luther Women's Tennis: in one word, domination.
The women went 8-1 on the season, with an 8-0 conference record, and capped off their dominant run by defeating Loras College on October 10 to win a fifth consecutive American Rivers Conference (ARC) title. This year's victory is the 32nd in program history.
The women's team is led by Head Coach Adam Strand ('04) and Assistant Coach Oleksandra Balaba. In his 12th year as head of the program, Strand continues to find success, but also credits his athletes and their capability.
"We have been fortunate to have a lot of talented players in our program over the years, but our players also put the team first and do an outstanding job of supporting each other and connecting with each other," Strand said. "We also spend a lot of time on doubles, and this has been key to our success over the years within the conference."
Women's Tennis' Fall Season — By the Numbers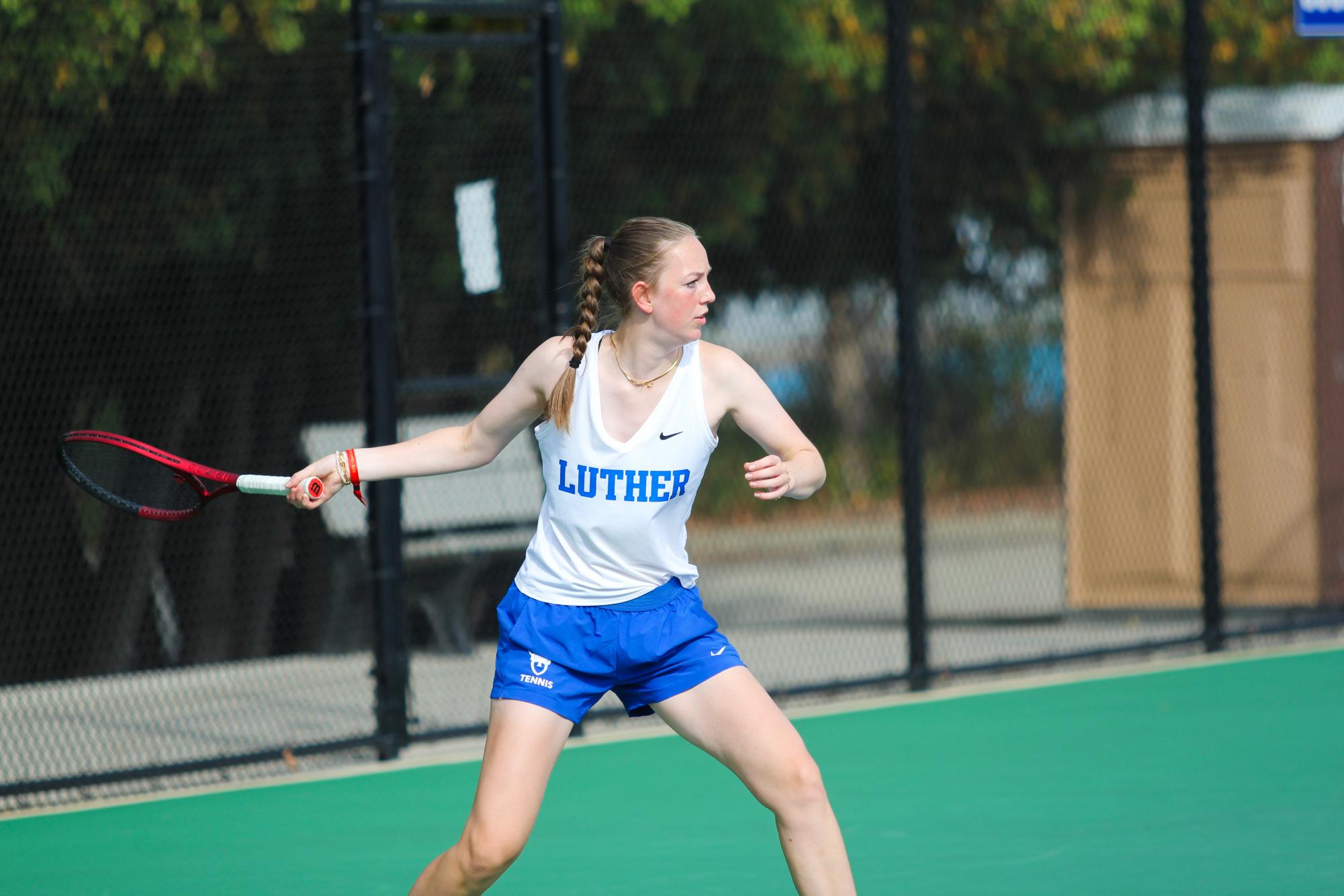 32 - Number of conference titles won by Luther Women's Tennis, including the title won on October 10.
5 - Consecutive years Luther has won the ARC Women's Tennis conference title.
4 - Luther players named ARC Women's Tennis player of the week (Sofia Sackett, Natalia Smith, Abby Ostermann, Liselot van Den Broek).
7 - Teams in the ARC that were defeated by Luther 9-0.
24/0 - Luther's 2023 record in conference doubles matches.
47/1 - Luther 2023 record in conference singles matches.
The team's track record of achievement dates back to 1982, when they won their first ARC title. While Strand pushes his athletes to compete at a high level and continue a culture of success each year, he also wants to provide the best experience possible for his athletes.
"I want our players to have a rewarding experience, one where they put in the work on a daily basis to get better but also one where there is enjoyment in the journey along the way," Strand said. "I try to figure out how best to connect with each individual player in our program and am fortunate to have a lot of coachable players to work with."
From first-years to seniors, his players have contributed to the success of this team. One senior in particular, Sofia Sackett ('24), has been a part of the success in her four years at Luther. Heading into the ARC Individual Conference tournament this fall, Sackett was 8-1 at No. 1 doubles alongside partner Natalia Smith ('24), and 5-2 at No. 1 singles. She has played in the  doubles and singles lineup every year on the team, and feels great about going four for four in ARC titles in her time at Luther.
"Winning another ARC title is awesome, especially it being my fourth one since being on the team," Sackett said. "My favorite part of the season is getting to watch my teammates and cheer them on during their matches."
However, the Luther lineup sees production from upperclassmen and underclassmen alike. Abby Ostermann ('26), a sophomore who primarily played No. 6 singles  her freshman year, jumped up to No. 2 singles and went 8-0 in conference matches. Ostermann, who came to Luther specifically for tennis, attributes the team's success to hard work.
"Even once we got here, I think everyone was always attentive at practice and we all had the same kind of goal," Ostermann said. "Like we shared that we want to do well in the conference which helped bring everyone together and support each other for that moment."
Ostermann and Sackett will be key members as their team looks forward to next spring. After qualifying for the NCAA regional and falling to Grinnell 5-1 in the first round last season, the team has a lot to look forward to in the near future.
"We always have a competitive goal of qualifying for NCAA's," Strand said. "So we will be aiming to improve a little bit each day we are on court to give ourselves the best chance we can to earn that opportunity next spring."
The Luther Women's Tennis team will take time to train this winter and develop their skills before they start competing again in the spring of 2024.