Sociologist Dr. Reuben Buford May Delivers Lecture to Luther College Community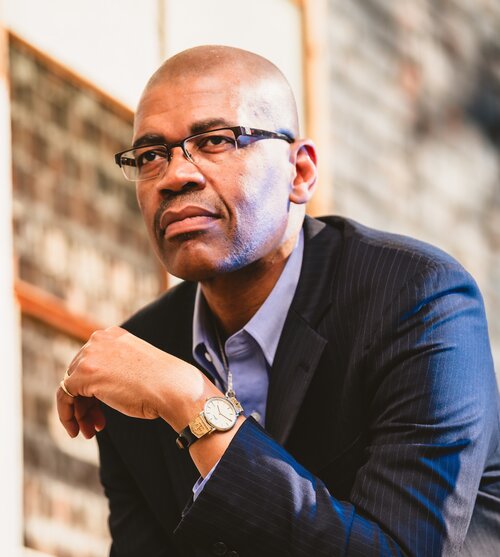 On Wednesday, October 28, sociology majors and minors tuned into author Reuben A. Buford May's lecture "White Rabbits', Dress Codes, Etc.: Exclusionary Practices in Urban Nightlife." May is a Florian Znaniecki Professional Scholar and Professor of Sociology at the University of Illinois – Urbana Champaign, and was the first guest speaker hosted by the Luther College Sociology Department this academic year. May's lecture focused on racial discrimination in night clubs in Northeast Georgia. His research focused on the ways in which nightclub owners covertly and systematically discriminate against people of color. He specifically studied nightclub scenes where owners had implemented dress codes that targeted stereotypical clothing styles often chosen by black individuals.
May shared his motivation for studying the nightlife scene in Northeast Georgia and how he went about gathering information about discrimination within it. He also discussed which items were prohibited by nightclubs.
"I spent a lot of time in the nightlife because it was a place I was drawn to. [To collect data for research] you essentially go into nightclubs and nightspaces, observe people, and see the things they're doing," May said. "I also conducted on the street interviews. After I left [Northeast Georgia] in 2005 I returned there in 2006, 2007, 2008 and did interviews with patrons of the nightlife. One of the things I found really interesting during my time there was . . . it's a predominantly white nightlife scene, and some groups felt like there was exclusion going on there. In particular, African-American males claim that the owners of the nightclubs had created rules related to dresscodes as a means of discriminating against them. [The dress code] included things like jerseys, oversized plain white t-shirts, tank tops, and then baggy jeans. Those were the principal kind of clothing that the nightclubs would ban."
Additionally, May noted that when black patrons made an effort to dress as their white counterparts did, either in suits or otherwise acceptable clothing, they found that they were still asked to leave or denied service.
"No matter what they wore, even if they dressed like their white counterparts, they were in fact still being treated differently," May said. "The same kinds of clothing on white patrons didn't look the same as they did on black patrons, or they were not treated the same."
Sociology student Stephanie Nevarez Ramirez ('22) attended May's lecture over zoom. She shared her thoughts on why May's research into racial discrimination is timely, and how she and her Zoom break-out room participants thought racial discrimination could be fought.
"I guess right now with the presidential election happening, there are a lot of discussions about race," Nevarez Ramirez said. "I feel this is very relevant today because we like to think that we are essentially a progressive country and that racism doesn't exist, but it actually does. In my discussion group, something important that one of my group members mentioned was that In order for the institution to essentially combat racism and institutionalized racism, you have to break down the system, you have to abolish it in essence"
Ramirez went on to discuss how discrimination against marginalized groups in the United States is a large problem, and that scenarios like the nightclub scene is just one instance of an ongoing problem facing Americans today.
Visiting Assistant Professor of Sociology Linda Silber shared why she thought May's lecture was important for sociology students to hear. She addressed May's context within the academic community and the methodology used in his study.
"[May] is a good sociologist," Silber said. "He does a form of methodology that I'm interested in, which is ethnography. And so for my students who are taking a class in research methods, it was good for them as well because he was talking about a number of methods that he used to get his data. For students, it [was good to learn about] exclusionary practices that are kind of underground that they might not necessarily hear about otherwise."
Silber mentioned that she enjoyed May's interest in creating a conversation with students, rather than simply imparting knowledge, and was thankful that the Luther College community had the opportunity to hear his lecture.