Luther to Increase Cost of Tuition
On December 1, 2020, the Luther College administration informed the student body of an increase in tuition for the 2021-2022 school year. The upcoming school year's comprehensive fee is set at $57,120. The new tuition price was suggested by the Office of Finance and Administration and by the Vice President of Enrollment Management. It was then presented to and approved by President Jenifer K. Ward, the Board of Regents, and the Finance and Enrollment Committee. The tuition increase was ultimately approved on October 24, 2020.
According to the interim Vice President for Finance and Administration Kenneth Westphal, the increase was created by following the Higher Education Price Index ( HEPI), which accounts for the consumer price increase, or the percent increase of the current economy's inflation. Despite this increase and the record-high cost of tuition, Westphal says the increase is not out of the ordinary.
"We went back 40 years," Westphal said. "And this was the smallest increase in a 40 year time period for the college."
The Associate Vice President for Finance Andrew Bailey also emphasized that this tuition increase depended on various external factors, rather than solely life at Luther. As financial deficits grow across the United States, especially in higher education, colleges are forced to raise their tuition to stay afloat, yet keeping the tuition price in line with nearby institutions helps colleges remain competitive even as costs climb.
"As a part of this process, we look at peer institutions," Bailey said. "Now we can't look at what they're going to decide for this year, but we can look for the current year and compare, and then also do some modeling as to what the colleges' budgets may or may not look like in the coming year. Those pieces inform the decision."
Although Luther is not the only institution of higher education in the area to raise tuition this year, this increase in cost caused some adverse reactions among the student body. Natosha Guldan ('23) expressed irritation at the announcement of the tuition increase.
"[The increase] made me feel super anxious," Guldan said. "Because it is already a struggle to pay tuition as it is, and I would really like to know where that money is going. I am hoping that we can get a little more funding, maybe it'll be going into the theatre program."
Westphal addressed concerns regarding the ways in which additional funds will be used as costs rise for the next academic year. He emphasized that Luther will use these funds in ways that benefit the students first.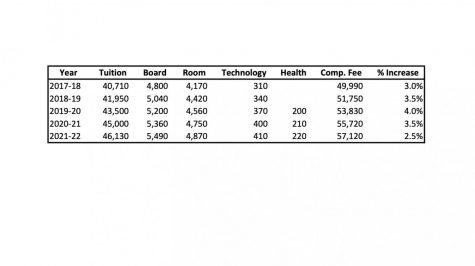 Leave a Comment