Luther Hosts Virtual Gathering to Discuss Washington DC Riot
On Monday, January 11, Luther hosted a virtual gathering to discuss the "Save America" rally following insurrection on the U.S. Capitol. The discussion was held over Zoom and led by panelists Associate Professor of religion Todd Green, Visiting Professor of political science Orçun Selçuk, and Assistant Professor of social work Susan Schmidt. They discussed what happened at the riot and factors that led to this event.
On January 6, just after noon, President Trump gave a speech in front of the White House encouraging listeners to "march on the Capitol" because "you'll never take back this country by weakness, you have to show strength, and you have to be strong." Rioters broke into the building and made their way toward the Congressional chambers. Members of Congress were moved into a secure location while rioters traversed the building and entered congressional chambers and the offices of elected officials. The building was not declared secure for another three hours.
Luther felt it was important to address these events with students. Green spoke about the long and short term factors that led to the riot at the capitol. Some of the short term factors included the narrative of the election being neither free nor fair, which Trump spread in his messages on Twitter and in the speeches he gave. In the long term, the issues go much deeper.
"There is a long history of angry white Americans using violence to oppose full democratic and civic inclusion for a variety of people who don't look like them or think like them," Green said. "This goes back to the founding of the country, so acting upon attitudes of hostility toward the full inclusion of all Americans is not new. It is no surprise that that part of the narrative that seems to have gemmed up that crowd was the idea of an election being stolen, and then in the geographical areas in question, they are mostly places with a high percentage of people of color."
Assistant Professor of social work Dr. Schmidt explained how cultural factors such as naivety and "American Exceptionalism" creates a space where facing American flaws becomes impossible. Because of the historic oppression of racial minorities, people of color tend to suffer the most when these factors have influence.
"[A] major flaw in our system that is foundational to the United States is racism," Schmidt said. "It is a flaw that we have a hard time addressing directly, and the killing of George Floyd presented a tragedy that has opened up more dialogue and given a front seat view for more Americans to see how this racism plays out in the daily lives of particularly African Americans, but not solely African Americans. But this racism seems to be both an explicit and implicit dynamic for support in President Trump, and his administration's policies and rhetoric have created an opportunity for racism and ideology of white supremacy to flourish over the last four years."
Visiting Professor of political science Orçun Selçuk discussed how the electoral system of the United States played a role in the events at the Capitol. The United States, as far as Selçuk knows, is the only country in the entire world that does not have a federal electoral commission to facilitate the election. Without this body, President Trump was able to question and sow doubt about the electoral process.
"I think [Trump] is responsible because unlike other presidents or candidates, he didn't show commitments to certain norms," Selçuk said. "I don't think he necessarily planned the attack on the Capitol, but I think the groups he empowered are just going to follow his orders. I think they are radicalized enough to take the opportunity to use violent means to achieve their goals."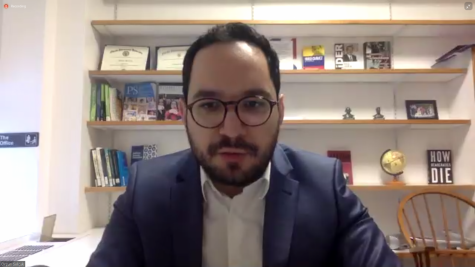 Selçuk then went on to say that President Trump is not the only person to blame in this situation. Responsibility also lies in the hands of co-conspirators in the House of Representatives and the Senate. While the capitol riots were unfolding, Selçuk was troubled by the hypocrisy of the many Republicans who took part in the riot.
"The first thing I tweeted was 'law and order' as an ironic and sarcastic tweet because during the Black Lives Matter protests, Republicans were so proud to be the party of law and order, the party of America, but I think this was just an instance that showed their hypocrisy," Selçuk said. "Most of them were not wearing a mask, which also shows their commitment to truth and fact. A lot of people there would call themselves pro-life, but then they don't wear a mask. It just revealed all the hypocrisy."
Schmidt voiced her shock and concern after the riot at the capitol. She expressed her worries for how events like this could impact young Americans' perception of what acceptable discourse between the public and the government is.
"My brain tells me I shouldn't be shocked, but I still was. I was deeply saddened, scared about what will come next, concerned for students, how do we make sense of this," Schmidt said. "Honestly, there is a part of me that felt like apologizing to the younger generation as part of Monday's event because we are doing a terrible job. What kind of modeling are we doing for the younger generation? I know we can do better. I hope the next administration provides better modeling and a better sense of a positive future for students."
Leave a Comment