"Tell Me About Myanmar": Luther International Students Hold Panel in Response to Military Coup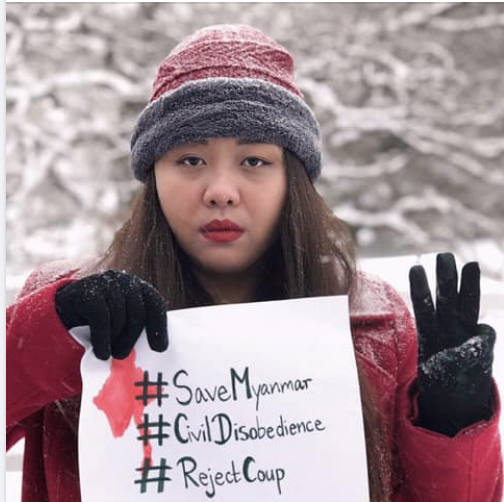 On Feb. 10th, Luther College's Center for Ethics and Public Engagement sponsored the pop-up panel "Tell Me About Myanmar," a presentation organized and led by several international students from the country about its recent military coup and subsequent civil unrest.
A week earlier, on the 1st, the military of Myanmar (the Tatmadaw), led by General Min Aung Hlaing, seized governmental control from the newly elected members of the National League of Democracy (NLD) party, and detained President Win Myint and State Counsellor Aung San Suu Kyi. Since then, the Tatmadaw has declared the 2020 general election invalid, and imposed a year-long stratocracy. These actions have led to widespread civilian protests and demonstrations against the military takeover, that have been met with violent repercussions. The panel itself focused on the impacts the coup d'etat had on Luther's students of Myanmar origin, and their attempts to contribute to the opposition.
"Our main goal is not to offer a historical or political account of what is going on in Myanmar," panel moderator and Visiting Professor of Political Science Orçun Selcuk said. "But more about how it relates to these four students lives, as students who are enrolled in an institution in the United States, but have family members back home."
The panel began with a brief history of the territory known today as Myanmar. Myanmar (formerly Burma) gained independence from the colonial rule of Britain in 1948, but its recent history has been marred by political conflict. After a brief period of republic, a military coup installed a socialist dictatorship in 1962. Following a revolution in 1988, Myanmar's military, which is considered a separate and largely independent branch of authority from the government, began to cede control of the nation. In 2015, free elections were held for the first time since 1962. The NLD won a supermajority in the national parliament, and their candidate assumed the presidency. In the 2020 elections, the NLD won 80% of votes, leading the army to declare voter fraud as their ensured 25% occupancy was threatened. The coup transpired the morning before the parliament was to swear in its new members.
In the aftermath of the hostile takeover, Myanmar civilians have instigated widespread civil disobedience through mass occupational strikes and revolts. A traditional cultural practice of banging pots and pans at night to defend one's home from evil has been adapted into a nightly demonstration of outrage. However, these visceral protests have exacted a toll. Military personnel have been deployed on the streets, and are armed with riot gear, water cannons, and live ammunition. Last week, two peaceful protestors were murdered in the capital.
"What is happening is insane," Min San Thu ('22) said. "[I] feel like I lost my own home. I was planning on going back this summer, to see my parents and friends, and all of that is gone now. I feel homeless. I also feel like I lost my dreams, since most of them revolved around what I wanted to do in my country, I want to be a journalist, and now I am not free to return. I would possibly be jailed."
All of the panelists expressed frustration with their current predicaments, as they attend school and to their studies, while their friends and families are daily advocating for the restoration of democracy on the ground.
"We really can't do much, besides raising awareness," Thawdar Zin ('21) said. "I really want to be there physically, marching with friends and my relatives. The military is waiting for them to get tired, but right now, they're like a raging fire."
While the panelists were unable to engage with the protest movement in-person, each had contributed virtually. Many Myanmar activists have employed social media platforms to spread awareness about the coup. Facebook campaigns and Twitter trends have gained international attention, and despite military organized blackouts, they continue to raise global interest. All panelists had participated in the viral "Hunger Games" inspired protest sign photo op, and many chose to spend their free time translating official military documents and correspondence from Myanmar reformers. Some had even secretly co-authored online petitions rejecting military rule.
For Nora Nyi Myint ('22), she hopes that those who attended or viewed the panel discussion understand the dire situation in her home country, and that they will engage with its ongoing developments.
"I must stay strong, be their voice and call out to everyone here that Myanmar desperately needs your help," Myint said. "The 'one year reign' will turn to decades again of dictatorial, authoritarian, and inhumane rule by the military, serving as an abomination to all efforts of human rights. Please, please hear us, hear our pain, and hear our cries for help.
To view the panel, please follow this link: https://www.youtube.com/watch?v=uhX3a7mZZlY&feature=youtu.be
To sign a petition co-written by some panelists against blanket sanctions, please follow this link: https://www.change.org/p/united-nations-please-refrain-from-placing-sanctions-on-myanmar?utm_content=cl_sharecopy_27155741_en-US%3A3&recruiter=1128646956&utm_source=share_petition&utm_medium=copylink&utm_campaign=share_petition&utm_term=psf_combo_share_initial&fbclid=IwAR3R-v0tna3cHSvxAmeKEGbyHmmhdoK61WHmuhKTRfaR74M5k0vr9TUoDFY
Leave a Comment