J-Term 2022 Courses Announced
On Sunday, March 7, the Center for Global Learning (CGL) announced the 2022 off-campus January-term courses, featuring twelve international and two domestic programs, with five of these fulfilling Paideia 450 requirements. Students have the opportunity to take their J-term in Belize, Cambodia, Costa Rica, the Dominican Republic, England, France, Greece, Honduras, Mexico, Sweden, Tanzania, or the United States. The decision for these J-term destinations was made with the pandemic in mind, so there were no new courses added to the list, except for a location change from New Zealand to Belize to accommodate New Zealand's COVID-19 travel restrictions.
Program Director for Off-Campus J-Terms Chelle Meyer explained how these programs will be well regulated and safe for both students and leaders to go on.
"We will be looking at what countries are doing, how they're progressing with their COIVD-19 cases, [in addition to] if they're doing immunizations or not," Meyer said. "Obviously, we will try to make sure that all of our students and leaders are vaccinated."
Executive Director for the Center for Global Learning and International Admissions Jon Lund emphasized how easy it is to explore the different programs available to students, even though the pandemic forced the information fair to be online this year.
"From March 11th to 29th, the program leaders are all holding their own zoom info sessions," Lund said. "Every program leader will set aside 30-45 minutes for you to Zoom in and chat with them specifically about their courses. I really would encourage you to do that, these leaders know the programs better than anyone else on campus."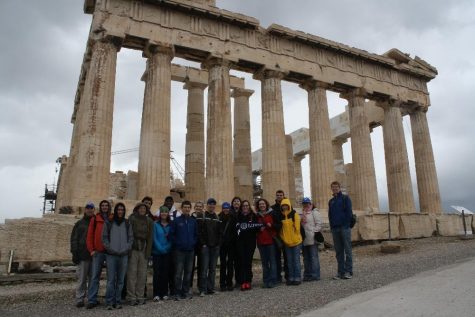 In addition to the zoom information sessions, Lund stressed the importance of program adaptability. The CGL is ready to address specific concerns about changes to course availability, location, or program updates. However, there are no expected cancellations this far. Decisions regarding program cancellations won't be made until the 2021 fall semester, in which case students would receive a refund of their program deposit.
The realities of COVID-19 and its impact on travel presented the CGL with a new challenge of figuring out which faculty program proposals to offer in 2022. Professor of English Amy Weldon has been teaching her J-term course, ENG 263: In Frankenstien's Footsteps, over the past few years, and was ultimately selected as one of the faculty to lead a J-term course in 2022. She provided her own insight into how programs were selected for next year.
"They need to be sure they have a good balance of Paideia 450s," Weldon said. "And even within that category, they need to be sure to have a little bit of a balance of majors and areas (both academic areas and geographic areas). But in general they have to strike a balance of courses that will appeal to lots of different students, lots of different majors, and different areas of the world to achieve a certain amount of coverage and balance."
The applications for the 2022 J-term study abroad courses will be conducted in two rounds. Priority will be given to students who apply between April 1 to April 23, 2021, in the first round. Second-round applications will be accepted between August 23-September 17, 2021. For more information on J-term 2022 study abroad offerings, please visit the Luther College website.
Leave a Comment