Norse of the Week: Rachael Luebbe ('23)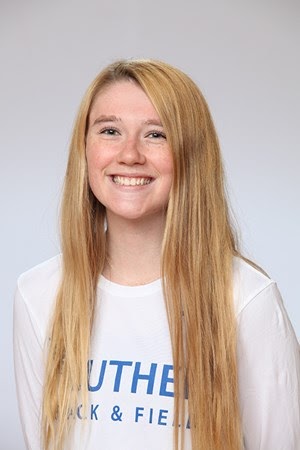 This week's Norse of the Week is Rachael Luebbe ('23). Luebbe competes for the Luther track and field team in the high jump and is also a middle blocker on the volleyball team. Luebbe recently earned all-central region honors in the high jump; she did so by recording a clearing height of 5-3¾, which tied her for 13th on the NCAA 2020-2021 Division III Indoor Qualifying list. This is Luebbe's second year on the track and field team, and she has received all-region honors both years.
How did you get started with track and field?
I got started with track and field after watching my sister compete when she was in middle school. I wanted to give it a shot, and I really fell in love with the sport.
What do you like about competing in the high jump, and how did it become your event of choice?
I like that high jump is a mentally challenging sport, in that you can see your goal right in front of you and know that you simply have to get over it. I thought I'd give high jump a shot in middle school because my sister was really good at it and I thought I might be too. She used to hold the school record until I took it from her, and that drive to replace her was a big factor in my decision to compete in high jump throughout high school.
Could you reflect on your first season on the Luther track and field team?
For not really knowing how college track and field worked, I feel that I had a pretty good indoor season.Then, the outdoor season didn't happen [because of COVID-19], and there was a lot of uncertainty, especially about whether or not athletes will receive an extra year of eligibility. Looking back on freshman year, I'd say that the biggest thing I've learned about myself is that I have the capability to excel at this level of competing. Coming from a really small town that wasn't really invested in track and field definitely made me underestimate my abilities to compete in a tougher competitive field.
What's your favorite thing about the Luther track and field team?
I think my favorite thing is that the team here feels like home, like family. We all joke around a lot and are just an open community that I always feel welcome at. The dynamic between the coaches and the teammates creates a very laid-back atmosphere, and we all create a healthy, competitive environment for each other, with a lot of laughs along the way.
How is your season looking so far this year?
We get an outdoor season [this year,] so that is a huge plus. It has been an interesting year, having to wear masks and [compete under COVID-19 restrictions], but it was [the] best that we could ask for. I am not complaining because there are a lot of other schools that have a lot less. To me, it seems like a fairly normal season. I think we have eight straight weeks of competing, but personally I am cutting down on meets for health reasons; I currently have a back injury.
How has being a college athlete changed your college experience?
[Being a college athlete] has given me a very organized schedule. I've developed a routine that I can stick to, which helps me with my prioritizing and time management skills.
Who is someone you admire and why?
The first person that comes to mind is my friend, Kassandra Keller ('23), who is on the volleyball team and the track and field team with me. I admire her because we are both very competitive, in the healthiest kind of way, at practice. We push each other well, and we excel when we are together.
You also play volleyball. Were you always planning on playing two sports at Luther?
Playing two sports wasn't necessarily a must-have when it came to my college experience, but I really wanted to be able to continue participating in two of my favorite activities, so when Luther gave me the opportunity to do both sports, I couldn't pass up the chance. Both programs expressed a lot of interest in me joining their teams, and I knew it would create a very unique college experience [that] I just had to have.
What does it mean to you to receive All-Region Honors for high jump?
Honestly, I'm happy that all the hard work my coaches and I have put in this year has paid off. It's really rewarding to know that the countless hours of practice are really showing this season, and especially after receiving this same title last year, it really pushes me to want to continue and work harder for the next two years.
Leave a Comment