Luther student Owen Johnson named Rossing Physic Scholar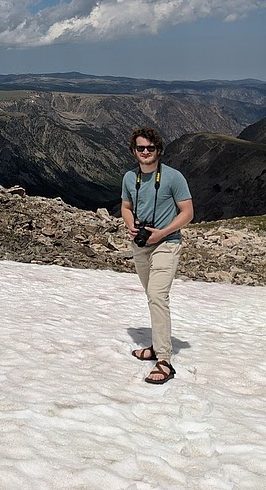 Associate Professor of Physics Erin Flater vividly recalls Owen Johnson ('22) in the middle of the soccer field on a cold October day. Johnson was recording himself making a Coke bottle rocket, which would later be shown to Decorah kids as a part of the Society of Physics Students' project to bring science to community kids. As the rocket shot off, Johnson spilled soda all over himself. According to Flater, this not only represents Johnson's dedication to the SPS, but also his willingness to do things for the sake of getting people excited about science. 
Johnson's commitment to the further study of physics resulted in him being named Rossing Physics Scholar for the 2021-22 academic year. He will receive $10,000 from the Thomas D. Rossing Fund for Physics Education, which gives annual scholarships to students who excel in physics.
Johnson, a physics major and math minor, came to Luther from Minnesota to pursue a pre-med degree. However, he soon discovered that problem solving in physics really intrigued him. He has a strong interest in astrophysics and astronomy — particularly stellar astrophysics, which is the study of unique stars. Johnson shared that his passion for physics was inspired in part by his professors. 
"I've definitely been inspired by my professors, who all are really into the job," Johnson said. "They made it hard in a good way. They made the classes difficult, which helped me grow as a student and learn problem-solving techniques." 
Professor of Physics Jeff Wilkerson hired Johnson as a research student in his sophomore year, where he still works as a graduating senior. Wilkerson described Johnson as a dedicated, interested, and hardworking student.
"He's served as the president of the Society of Physics Students, and he has been very interested in helping the upper-level students meet the first-year students and make a smooth transition to the physics department," Wilkerson said. "He's contributed just as a member of the department – being around, being a part of who we are. […] Good researcher, good student, just good all around."
Besides being an excellent student, Johnson's contributions to the physics department include, but are not limited to, doing research, serving as a President of SPS, tutoring students, and integrating people into the field of physics through community outreach. As the supervisor of the SPS, Flater works closely with Johnson and commented on his leadership qualities, describing him as driven and focused.
"When he became a leader of our physics club, he had said that his goal was to get as many people as possible to be involved in the physics club," Flater said. "He's really excited about that. He's been very creative about coming up with ways to bring people in. He really cares about other people, and helping them feel like part of the physics community."
Not only is Johnson an active member of the physics department, he also enjoys the liberal arts aspect of Luther's education. Despite being a STEM major, Johnson was able to study humanities beyond his normal range of courses. He particularly enjoyed Paideia, Christian Ethics, and German classes. 
According to Johnson, his experience at Luther has motivated him to be more involved in his community. He has been in choir the past three years, and is currently singing in Collegiate Choral. Johnson shared that it has been a defining part of his college experience. 
"Physics, and a lot of STEM fields in general, can be very homogeneous," Johnson said. "These extracurriculars, like choir, have exposed me to different identities of people. [It] helps me realize that's something physics definitely needs to work on: more inclusivity."
Currently, Johnson plans to continue his education after graduating from Luther, with the end goal to receive his Ph.D. in astronomy or astrophysics. He then hopes to become a physics professor, which will allow him to teach and research at the same time. For now, Johnson's focus is on Luther, and what he can do to make future physics students feel at home.
"I'm committed to working to improve Luther physics," Johnson said. "It's something that I'm passionate about, trying to make it a better place and trying to improve the communication between the years. One of the things that I've tried to do in SPS leadership is reach out to these first years and try to help them understand, 'you'll make it through.'"
Leave a Comment