Bill banning transgender girls and women from female sports in Iowa signed into law
Iowa has become the latest state to implement a law banning transgender girls and women from playing on women's sports teams. Iowa Governor Kim Reynolds signed the HF 2416 bill into law on March 3, 2022, banning transgender girls and women in the state from competing on sports teams in accordance with their gender identity.
HF 2416 went into effect immediately, making Iowa the 11th state to enact a law restricting transgender women from participating in women's sports. In a statement from the Office of the Governor of Iowa, Reynolds expressed her reasoning for signing the law into effect, calling the bill "a victory for girls' sports" in Iowa.
"No amount of talent, training or effort can make up for the natural physical advantages males have over females. It's simply a reality of human biology," said Gov. Reynolds. "Forcing females to compete against males is the opposite of inclusivity and it's absolutely unfair." 
Although Luther is a private institution, the law applies to public and private K-12 schools and community colleges as well as colleges and universities affiliated with the NCAA and NAIA. In response to the bill, President Jenifer K. Ward released a statement to the Luther community expressing her concerns on how this affects transgender students.  
"I am concerned by this new regulation, because of the harm it may cause to the valued transgender members of our community, regardless of whether or not they are an athlete," Ward said. "Because of the way it divides us by pitting questions of fairness against questions of inclusion; and because it challenges us as we strive to fully live into our mission statement, which calls us to embrace diversity and to care for all God's people."
Amelia Morrow ('22), a member of the Luther Cross Country and Track and Field teams, believes that the bill is mentally and emotionally harmful to transgender athletes, especially youth. Morrow also said that placing an outright ban on transgender women and girls from competing stops necessary conversations from moving forward.
"Banning transgender women and girls from competing does more harm than good," Morrow said. "I would like to see my sport and other sports grow and evolve to be more inclusive. Athletic bans for transgender girls are part of a much larger issue, and act in tandem with other anti-trans legislation circulating through state governments right now."
Waleed Yual ('22), also a member of Luther's Cross Country and Track and Field teams, expressed similar disappointment in the law. Yual said he felt disappointed and ashamed that the state of Iowa passed a bill he called, "so obviously closed-minded."
"I feel like there isn't a need to separate cis women from trans women or cis men from trans men; there isn't a real reason," Yual said. "Morally, I think it's unethical to tell a trans woman they have to compete as a man when they aren't one."
The debate surrounding inclusion of trans athletes in collegiate athletics gained more national attention after the NCAA swimming championships. University of Pennsylvania swimmer Lia Thomas, a transgender woman, recently competed in the swimming championships, but her participation was not without controversy. Protestors stood outside the McAuley center where the event was being held. Additionally, a Title IX complaint was filed against the University of Pennsylvania by the non-profit Concerned Women for America, claiming that the University violated Title IX by allowing Thomas to compete on the women's team. Thomas, despite the backlash, stayed focused and won the 500-yard freestyle, becoming the first known transgender athlete to win a Division I national championship in any sport. Afterwards, she posed with a peace sign on the podium, while holding her championship trophy.
"It means the world to be here," Thomas said in a post-race interview. "I try to ignore [distractions] as much as I can. I try to focus on my swimming, what I need to do to get ready for my races, and just try to block out everything else."
As of right now, it remains to be seen how HF 2416 will impact Luther student-athletes, and the rest of the Luther community. According to Director of Athletics and Head Softball Coach Renae Hartl, Luther is awaiting guidance from the NCAA and college legal counsel.
"Obviously [the bill] is very complicated and concerns me very much," Hartl said. "I want all our students to feel supported. We will be bound by law and we will need to figure out what that means for us at Luther College in the near future."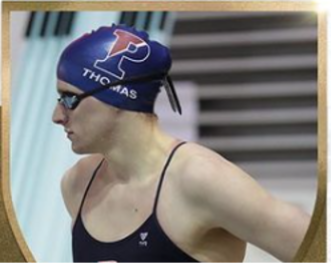 Leave a Comment