Luther College has raised its comprehensive fee for 2024-25 to $63,650, as announced by President Jenifer K. Ward in a message to students and families on November 9.
The jump in price is as a result of the Co-Curricular Activities Fee (CAF) being made a required payment for all Luther students next fall, which the Board of Regents approved at their most recent meeting. According to Director of Budgeting, Financial Planning, and Analysis Andrew Bailey ('08), the comprehensive fee was also increased "due to general inflation in costs and [Luther's] commitment to supporting employees."
"We are trying to balance affordability and accessibility with robust experiences for students inside and outside of the classroom," Bailey said in an email.
According to the Office of Financial Aid, students who were already paying the CAF will have their comprehensive fee increased by 3%. This increase will apply to 93% of students on average, which is the amount of students on campus who were already paying the CAF. For students who were not paying the CAF previously, their total payment will increase by 3.5%. The current CAF is an optional for students at $270, but the required CAF payment will be $280 in fall 2024.
Data provided by the Office of Financial Aid shows that Luther has raised their comprehensive fee every academic year since 2015-16. That year, the fee was $47,110 — seven years later, the fee has increased over 30% to its current total. The largest percentage growth in a single-academic year's comprehensive fee was in 1990, when the Board of Regents approved a 11.4% increase. The smallest fee raise was in 2021-22, with a percentage increase of 2.5%.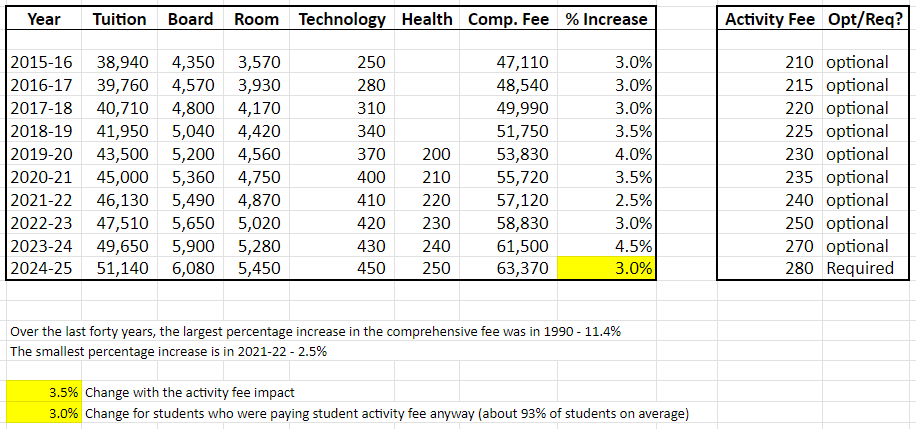 Despite the fee increase, Bailey said that Luther will continue to provide "highly competitive financial aid packages." Currently, 100% of students receive financial aid and the average need-based financial aid offer for the Fall 2023 incoming class was $48,886. Aside from financial aid, Bailey also believes that Luther provides students with "an environment that offers many opportunities and helps them thrive."
"Although Luther has had a smaller enrollment for the past couple of years, and therefore we are receiving less revenue, we nevertheless have not cut programs, faculty, and staff who provide a great experience for students," Bailey said in an email. "We believe in the future of Luther, and our donors and endowment funds are helping us weather this post-pandemic season. We are working on growing our enrollment and our fundraising through the strategic framework that was recently announced."
Ward echoed these thoughts in her message to families, saying that Luther continues to provide a "transformative educational experience" as the value of higher education continues to be discussed nationwide.
"Our recently adopted strategic framework is focused on the principles of grounded and global at Luther," Ward wrote in her message. "We are committed to providing the essential grounding of a common educational experience, one that allows each individual to develop their base, equipping them with the tools to be both lifelong learners and prepared for the inevitable changes of their future."
Students with questions or concerns can email the Office of Financial Aid at [email protected]. The office can also be contacted by phone at (563) 387-1018, or reached toll free at (800) 4-LUTHER.